8 Best Online Landscape Design Classes That Will Amaze You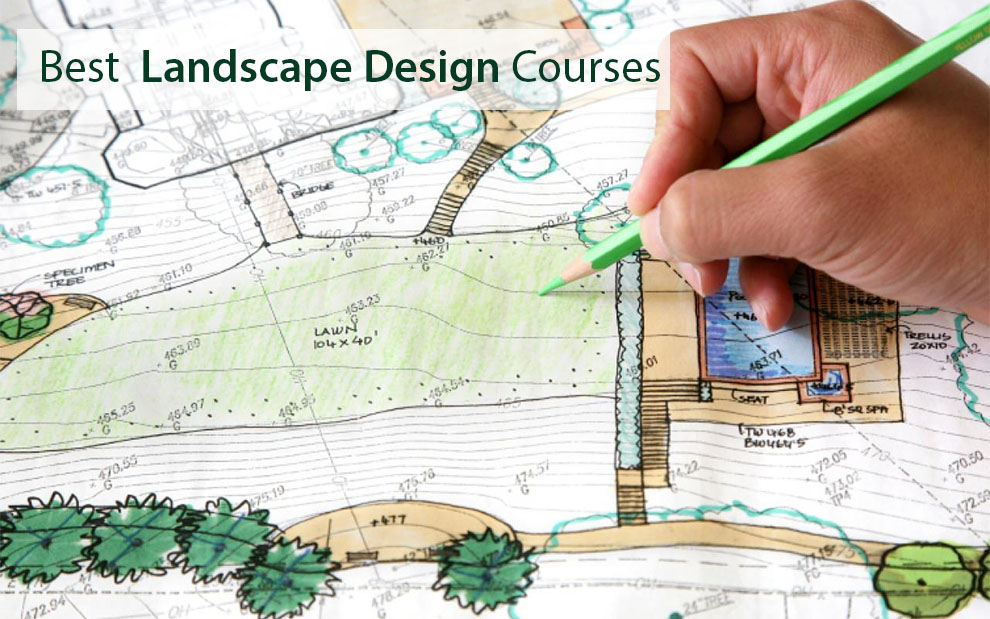 What is landscape design? Landscaping is more than trimming and mowing, and it certainly involves more than just plant selection for a project. As a matter of fact, it is the coming together of the spaces and elements to elevate the outdoor living space.
To know about landscape design, you must understand the principles and objectives vital for a robust solution that you will need for yourself or a paying client. Further, a successful landscape designer must possess practical expertise in master plan drawing, hardscape construction, and plant morphology, among other things.
In addition, functional and attractive lawns and landscapes are quintessential for groundskeepers, businesses, and homeowners globally.
Further, if you aspire to start a design company, you must be thorough with the latest design and garden ideas to take your company to new heights. For this, you need to enroll in one of the best online landscape design courses.
On the internet, you can find several online landscape design classes. To help you make a wise selection, our team researched and has shortlisted a few of the best landscape design training programs for you.
Jump To
8 Best Courses To Learn Landscape Design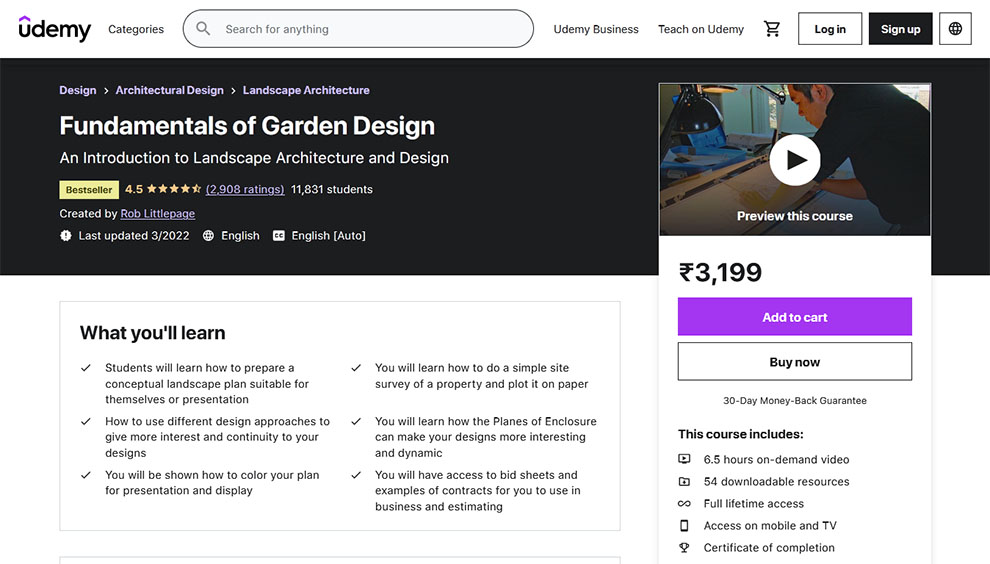 Rating
4.5
Enrolled
11,750 students
Duration
6.5 hours of on-demand video
Paid
Yes
Certification
Yes
Instructor
Rob Littlepage
Return or refund policy
There are two options:

7-days trial subscription plan
30-day moneyback guarantee on a personal plan

Cons
Instead of teaching landscape design, the course focuses on communicating with the customers. Of course, that is necessary, but that is not what most students may be enrolling in the course for.
On top of our list is Udemy's one of the top-selling online landscape design courses. The course is full of resources, making it comprehensive. There are 54 downloadable resources and 74 lectures having a lifetime guarantee. You can go back to review and revise as and when you want.
However, please remember that it does not discuss the planting design. Of course, the instructor will take you through using plants in the landscape, but there will be no detailing on any individual plant species, their use, or placement. So, if that is what you wish to learn, give this a skip.
Further, it is not a computer-aided design course. You learn via pen, ink, and paper. Lastly, it is a hands-on, conceptual course wherein the instructor takes you through everything from starting a design project to refining a plan before preparing construction design, beginning a discussion, and more.
Learning Outcomes
As part of this course, you will bag access to the contracts examples and the bid sheets to help with estimation. In addition these are the best online landscape design classes to learn:
To prepare a conceptual landscape plan
To use different design approaches and give more continuity and interest to the designs
To perform a site survey of a property and present it on paper
Understand how Planes of Enclosure can make the designs better
To color the plan for display and presentation
Ideas to grow your design company
Selecting a design approach
Interviewing the client
Drafting to scale
Conducting site surveys
Prerequisites
For this best landscape design training, you need basic math skills.
Who should take this course?
It is one of the best online landscape design courses for beginner/intermediate level students interested in Design and Architecture. Further, this course will help:
Designers
Landscape contractors
Students who aspire to better their design capabilities
Anyone interested in elementary differential elevation surveys and site surveys
Review by April C. :
"
This course is perfect for someone who is looking to learn about landscaping and gardens. The instructor did an incredible job of covering the basics.
It is a diploma in landscape design training. Further, these are affordable best online landscape design classes. It is 100% online. So, you can learn and study at your pace.
Learning Outcomes
In this one of the best courses to learn:
Design fundamentals
Hands-on, professional design techniques
Business concepts and practices to start and progress your landscape design operation
What do you get?
When you enroll in this course, you get access to:
Textbook: Professional Landscapers Handbook
Textbook: Plan Graphics for the Landscape Designer
Textbook: The Essential Garden Design Book
Binder™ mobile app to have your learning resources handy on, on-the-go
ProQuest® digital access to an array of resources
Learning Resource Center online labs and libraries
Student Portal dashboard for instant access to support and lessons
An active online community to clear your doubts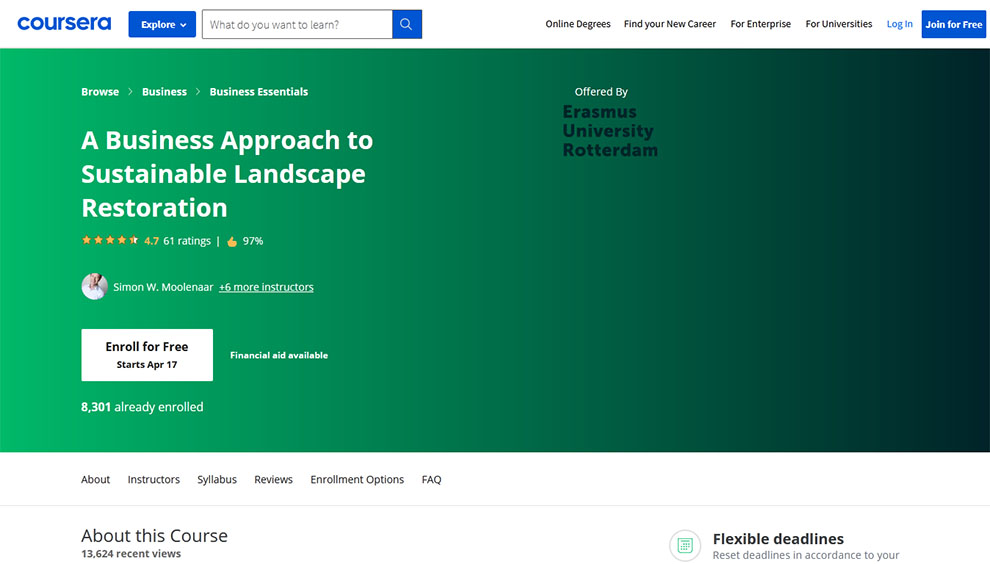 | | |
| --- | --- |
| Offered by | Erasmus University Rotterdam |
| Rating | 4.7 |
| Enrolled | 8,274 already enrolled |
| Duration | Approx. 25 hours to complete |
| Paid | Yes, it is one of the paid online landscape design courses |
| Certification | Yes |
| Instructors | Simon W. Moolenaar, Johann Thorsson, Ólafur Arnalds, Steve Kennedy, Asa L. Aradottir, Nicola Favretto, and Rob van Tulder |
| Return or refund policy | 14 days from the date of payment |
| Cons | Some lectures are pretty dull. The instructor should try to make the classes more engaging. |
This landscape design certificate online course is presented to you by Coursera. To meet the Sustainable Development Goal on Land Degradation Neutrality, the integration of large-scale landscape restoration and landscape management should be a part of every company's business objective.
Naturally, all business professionals must possess the right vision, knowledge, and skills. It is the purpose of these best online landscape design classes.
The instructors have designed the course to train the business professionals and developers to acknowledge business' interdependency with healthy landscapes. It also aids in understanding the value of the ecosystem resources.
Further, the course also tries to enlighten you about landscape degradation – a wicked, global problem resulting in the depletion of the finite resources on the earth.
In addition, the instructors will also give you a solution to the problem – business-driven landscape restoration. So, via the lessons learned in the course, you will be in a position to apply the beneficial skills in your professional life to combat the issue of land degradation and restoration.
So, enroll in this landscape design certificate online, and learn the necessary skills.
Review by PK. :
"
"The course is very useful to learn about the learn degradation and ecosystem restoration, however, regarding ecosystem services it needs much contents too for to be a successful professional.
Do you wish to design a water-efficient backyard or a national park? If yes, this course is an excellent choice. Knowledge of landscape architecture provides you with the skill and abilities to elevate the places you live, play, or work.
It is a multidisciplinary field that is a combination of sustainability, construction knowledge, and environmental systems.
In addition, it also takes into account water and land conservation to ensure placemaking and build well-designed outdoor living spaces. This one of the top-rated online landscape design courses covers all of this.
Further, you can finish the program sequence in three years. There are weekend and night landscape design training available. Your instructors for the course are working professionals. So, you will learn from the best.
Lastly, it is an approved university extension certificate program by the California Architects Board Landscape Architects Technical Committee. So, it caters to all the requirements by the State of California to sit for the state licensing exam.
Learning Outcomes
In this best landscape design certificate online, you will learn the following:
Fundamental principles of design via drawing and modeling
Artfully combining natural processes and science in the landscape design
Analyzing the problems in terms of physical form and design
Designing methods and drawing techniques to build landscapes
History and practice of landscape design and garden
Different dimensions of professional practice, such as professional ethics and management
Prerequisites
For these online landscape design classes, you need:
Bachelor's degree
Time
Patience
Desire to learn something new
Who should take this course?
This landscape design certificate online course is suitable for:
Anyone who aspires to be a licensed landscape architect
Individuals passionate about designing for the natural environment
Anyone who dreams of creating theme parks, trails, parks, or urban landscapes
Individuals seeking career working communities through facilitation and engagement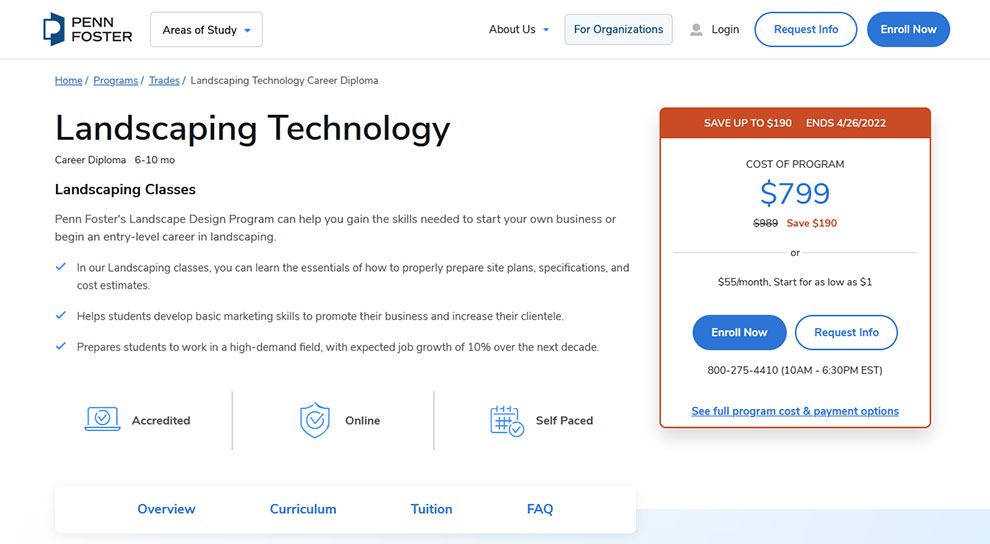 Next, we have one of the best online landscape design courses. It is a diploma course of six to ten months, designed with job readiness in mind. This comprehensive program comprises eight course and 41.3 continuing education units (CEUs).
Further, you will have to submit two projects and appear for twenty-two exams to assess your learning in the course. Following this, you will bag a certification.
Learning Outcomes
In this landscape design certificate online, you will learn the following:
Skills required to start your landscape design business or a career in landscaping
Selecting the correct materials utilized in designs for sustainable landscaping
Basic marketing skills to boost clientele and promote the business
Prepare site specifications, plans, and cost estimates
Practically work in this field
Details about gardening, horticulture, and plants
Coordination of the arrangement of proposed and existing land structures and features
Communicating with building architects, clients, and engineers
Inspection techniques to comply with original plans
It is a detailed landscape design training that covers all the design fundamentals. Further, it takes you through professional hands-on techniques. Also, it is one of the top-demanded online landscape design courses.
It brings you 24/7 access to expertly prepared course materials, lessons, and videos. Further, you will receive one-to-one feedback from a professional mentor to help you get better. You can contact the team of advisors via email and phone to get a response to your queries.
It is an online, self-paced course. So, you can finish it in eighteen months. It comes with a 14-day refund policy. So, if you do not like the content, you can request a refund. You also access the online student forum, a community to clear your doubts and share your work. After you finish the course, you will bag a certification.
Learning Outcomes
This landscape design certificate online will teach you the following:
Interpretation of the visual design elements used in the landscape design process
Knowledge of the graphic and drawing tools used in landscape design
With these best online landscape design courses you learn visualizing the landscape site
Applying the learned knowledge to personal projects or client's work
Designing the space as outdoor rooms
Applying standard design principles to boost the appearance of commercial or residential outdoor space
Knowledge of the business-related functions and concepts of the landscaping design process, such as safety and OSHA compliance, generation and interpretation of contracts and specifications, customer service, and human resource management
Describing the different aspects of winterizing, irritation, or general maintenance for established landscapes
Identifying different flowers, plants, surface materials, and enclosures to create and boost the exterior design spaces
OSU has a variety of short courses that educate you on gardening fundamentals. You can browse the available programs and pick the best landscape design training that meets your needs.
Courses include:
You can pick from the below-listed gardening course:
| | |
| --- | --- |
| Rating | 4.0 |
| Enrolled | 54 students |
| Duration | 5.5 hours of on-demand video |
| Paid | Yes |
| Certification | Yes |
| Instructor | Vanessa Hollenbeck |
| Return or refund policy | 30-Day Money-Back Guarantee |
| Cons | There is some fluff in the course, which unnecessarily adds to the length. |
Lastly, we have a Udemy course. It is a hands-on class where you learn by doing. In addition, there is a quiz at the end that helps assess your learning across the course.
Learning Outcomes
In this landscape design certificate online, you will learn the core foundations to become a landscape architect.
Prerequisites
It is one of the top landscape design courses, but there are no prerequisites for this course.
Who should take this course?
These are the best online landscape design classes for students who aspire to be landscape architects.
Conclusion
So, these are the top eight best online landscape design courses. Through this guide, we have covered all information about the listed classes. To know more about any program, please click on the attached link. Regardless, whichever course you pick, it will be the best. So, go ahead, make your choice, and learn landscape design.
If you have any queries, feedback, or questions, please share them in the comments below. Happy Learning!
Best online landscape design courses
Reviewed by 10 Landscape Designer 4.9