Reading Time:
10
minutes
Jewelry making is a rewarding hobby. Who doesn't appreciate a handmade piece of jewelry. To help you learn from the best, I give you my insights on some online courses for jewelry making.
I am a passionate hobbyist who has always been into trying out new things, and I have recently delved into the captivating world of jewelry making. It all began when I found a keen interest in designing unique and trendy pieces.
In the last seven to eight years, I have explored many online jewelry making classes. While some didn't do much to my progress, there were many that paved an instrumental role in helping me get better at jewelry making.
Of course, I cannot share all of them with you, but there are six in particular that deserve a special mention and will certainly help in your journey. So, let us embark on this creative adventure together.
What Makes Jewelry Making Different From Jewelry Design?
Studying jewelry making provides a rewarding and unique experience compared to jewelry design alone. Though jewelry design focuses on sketching ideas, jewelry making delves into the hands-on process of bringing those designs to life.
So, taking an online jewelry making course and studying the subject helps you acquire different techniques, such as wire wrapping, metalworking, beadwork, and stone setting.
Further, learning jewelry making helps you acquire a deeper understanding of the techniques, tools, and materials involved in crafting beautiful pieces.
It allows for customization, experimentation, and the ability to metamorphose your artistic version into wearable art. Jewelry making offers an immersive and tangible experience that goes beyond the realm of design, making it a distinct and captivating field of study.
How I Narrowed Down To These Online Jewelry Courses?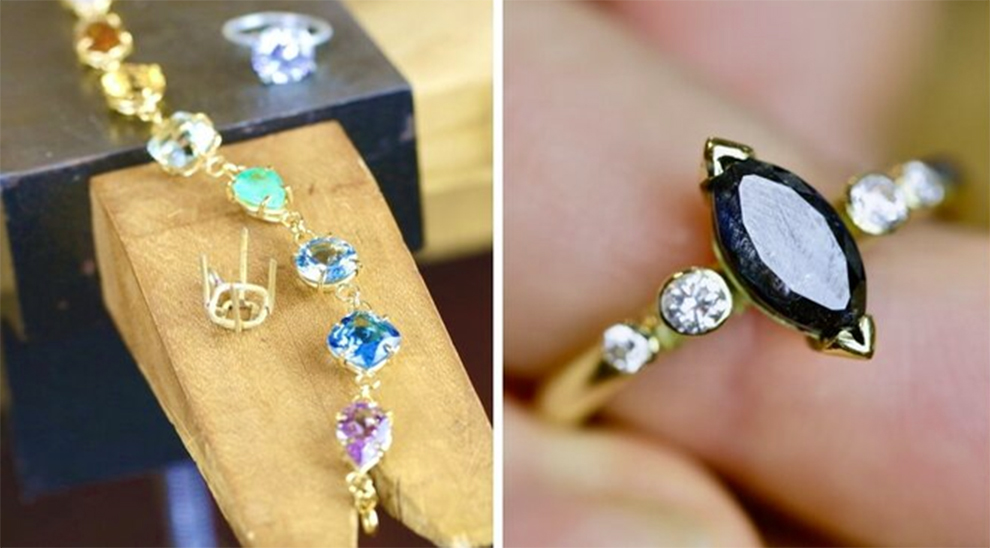 I will be listing six courses for you. But of these alternatives, one that particularly stood out for me is the Jewelry Making: Wire Wrapping for Beginners.
My decision is influenced by multiple factors but it was definitely an outcome of careful evaluation. For me this one stood first because of its easy to follow lessons. Nothing complicated or overwhelming.
I guess that's the reason for its 4.9 rating as well.
Further, it has garnered massive praise from more than 9,368 students who have found immense value in the expansive lessons.
Crafted by a professional jewelry instructor and designer, the course provides 2.5 hours of on-demand video content, six downloadable resources, and eleven articles.
Moreover, you will find vital techniques such as gemstone usage and wire wrapping. In addition, there are lessons on variations on bracelets, earrings, and necklace styles.
What I further cherished about this class is that it fosters interactive community wherein students can troubleshoot, receive feedback, and share their progress. The fact that it comes with lifetime access is also one of my favorite aspects, as you pay nothing for the new additions.
You get a 30-day moneyback guarantee too, which is a great depiction of how much belief Udemy and instructors have in their content.
Free and Paid Beginners Jewelry Courses with Flexible Classes
Let me tell you about each of them one by one.
Rating: 4.9 (1499 ratings)
Instructor: Jessica Barst
 
Pros
Cons

It is one of the highly-rated and comprehensive beginners jewelry making courses.
You will study with a recognized jewelry instructor and designer.
It comes with a lifetime access to all the instructor support and projects.
The class comprises several design ideas and techniques.
You will create professional-quality wire-wrapped jewelry.
It comes with a 30-day money-back guarantee, ensuring a risk-free purchase.
You can view it on computer, TV, and mobile devices.
Once you complete the class, you earn a certification.

 

Since it is a beginner friendly course, learners seeking advanced wire working skills may not benefit with the class.
You will have to buy additional supplies and tools to progress through the class.
Sadly, the class has limited focus on border wraps, weaving, and coiling.
I found the resolution quality pretty bad at some instances.
Though it is a great class, it progresses slowly, which can be off-putting.

 
Bottom Line
You can enroll in this online jewelry making course to get well-acquainted with the different wire wrapping techniques and create unique and beautiful jewelry pieces. With a moneyback guarantee, iconic instructor, and lifetime access, you can confidently design stunning pieces for gifting, personal use, or even selling.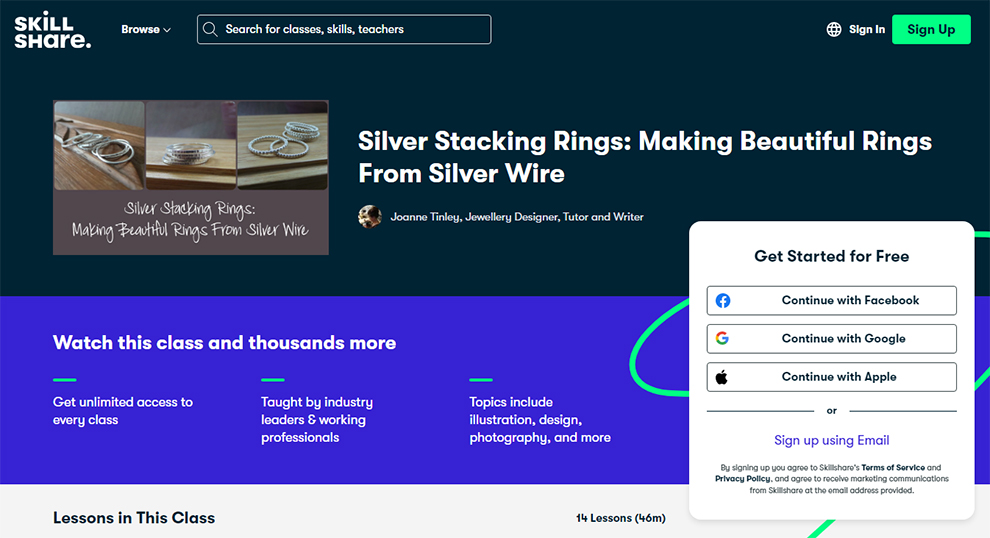 Instructor: Joanne Tinley
Pros
Cons

You will study how to stack rings with a renowned jewelry maker who has been in the business for several years.
It is a beginners jewelry course. So, you need no former knowledge in the domain to take this class.
This class helps you get well-acquainted with different textures and embellishments you can add to your ring collection.
It comprises eight projects that give you a practical exposure into jewelry making.
You get a free trial.
You learn to construction beautiful rings, which can be mixed and matched to help you get a different look all day, every day.

 

It is a very short 46 minute course.
You will miss many advanced concepts in the class.
There is not enough depth. So, you will have to support it with other classes to get full understanding on the subject.

 
Bottom Line
With this online jewelry making classes you will learn to solder and adjoin two metal pieces effortlessly with Joanne who takes these lessons directly from her studio on the South Coast of the UK. She takes these classes in collaboration with fifteen other exceptionally talented and creative artists.
Approximately 2500 students took this class. It is a small 46-minute session, which is sub-divided into 11 crisp videos. You can watch the complete course all at once or watch them at your convenience.
This is a 100% flexible online course. So, you can restart and re-watch as many times as desired till your concepts are clear.

 
Rating: 4.4 (271 ratings)
Instructor: Kellie Chasse
Pros
Cons

It is an excellent alternative for beginners and those who have never worked with resin.
It is easy to comprehend with a well-planned layout.
The simplicity in every lesson is commendable, making the class easy to follow.
You get step-by-step instructions in the class, which is an excellent advantage for beginners.
While it is a one-hour class, it has seventeen lectures that cover everything necessary to learn and work with resins.
It comes with lifetime access.
You can view the classes online.

 

Anyone who has worked with resins before will not benefit much from the class.
For the price, it is a little short, and the instructor could add more concepts of jewelry making into the session.
It needs additional purchases of tools and supplies.

 
Bottom Line
It is also a beginners' jewelry making courses wherein you learn to create stunning resin earrings and pendants. Thanks to step-by-step guidance from the instructors, you can develop your skills and produce unique wearable art pieces. But this is a no go for experts and people wanting to learn something apart from resin jewelry.
Don't miss out – Best Resin Art Classes
Instructor: Kiley Bennett
Pros
Cons

It is fun, engaging, and easy to follow.
The lessons are crisp and short to promote learning on the go.
Her designs are really trendy.
The materials employed are cheap and easy to get access to.
The structure of the class is commendable.
While it is an excellent class for beginners, even people familiar with polymer clay will find something new and revolutionary to learn.
You will study with Kiley Bennett, a top teacher on Skillshare.
You get a free trial to this online jewelry making course before committing financially.

 

It is a short 49-minute class that may not suffice for everyone.
The engagement and interaction with Kiley Bennett are very minimal.
I emailed some doubts to Kiley, and she took five business days to respond, which is a long wait time.
Some of my earrings broke, even when I followed her instructions to the T, making me believe there may be some factual errors in her lessons. For instance, baking without a separate oven thermometer does not seem right.
Some of the finished products she showed were not smooth and had bumps.

 
Bottom Line
Over 6000 students took the class, and most have positive things to say about this online jewelry course. The instructor will take you through 13 projects wherein you get hands-on training in producing oven-bake clay jewelry at home. It will be a fun, cheap, and intuitive way to learn jewelry making at home.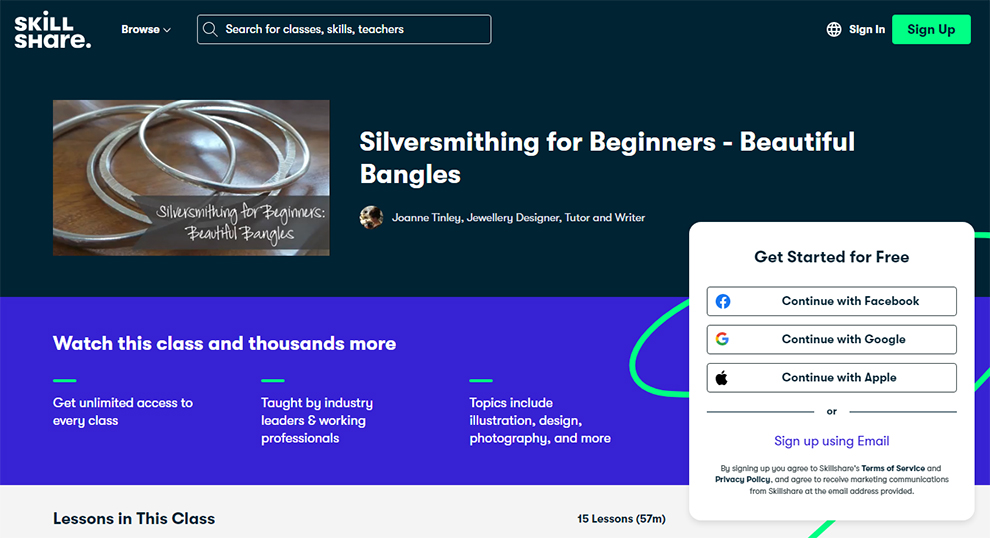 Instructor: Joanne Tinley
Pros
Cons

I was soldering for quite some time, and after I took the class, I realized my method was incorrect.
It is a good, easy-to-walk, beginner-friendly class.
The lessons are broken into short videos.

 

Including only two projects in these online jewelry making classesis a turn-off for me.
You do not earn a certification with the course.

 
Bottom Line
Over 1000 students took the class ( 1 of them being me), and I do not have too many issues with the course. But in all honesty, while I think this information is crucial in bangle-making, you can find most of it for free on YouTube.
But despite that, I recommend this course because it will offer collective information on everything you need to know at a manageable price. Hence, it falls on my recommended list.
Instructor – Aga Kruk
Pros
Cons

Craftsy offers two subscription options: a monthly plan for $10.00 or an annual plan for $97.00. Alternatively, you can buy this class individually for $39.99. These options can be beneficial for students who can complete the online jewelry making classes in one month.
The class is structurally organized and has nine sessions. You can complete them in 5 hours and 29 minutes.
You will explore wire-wrapping techniques and work on seven projects covering earrings, necklaces, and pendants.
They have regular discounts, the recent one being the 4th of July, 70 percent off.
You will study the basic cold metalwork techniques, such as looping and wrapping, twisting and hammering wire, multi-strand beading, and crafting intricate frames and bead clusters.

 

For professional, working students, the $39.99 alternative will be a better pick, which is costly.

 
Bottom Line
Aga will motivate you to keep practicing throughout this online jewelry making course, even once the class is over, to enable your creativity to shine forever. Through this class, you will gather skills to create professional-looking jewelry to wear and give.
You can view this course anytime and anywhere. Further, you will get some bonus downloadable PDF material with the course resources. You even have access to class Q&A with experts.
Some Free Online Jewelry Courses
While the alternatives above come at a price, not everyone can afford to bear the cost. So, here are some free options that I personally enjoyed:
Want A Degree Program Instead?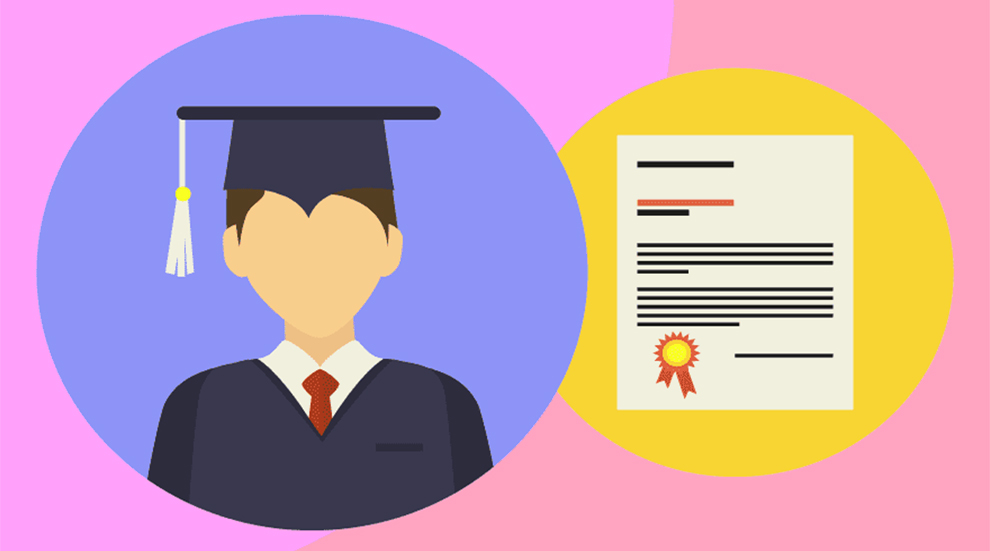 Sadly, you may not find many alternatives for college degrees that focus on online jewelry making classes, but you can find jewelry design degree programs. Broadly, these will encompass different aspects of jewelry creation, and jewelry making is often a part of their curriculum.
So, when you enroll in a jewelry design degree, you will acquire a comprehensive understanding of the technical and creative jewelry production aspects and a broader knowledge of the industry's business aspects, gemology, and design principles.
It will be a good option to go with accredited universities and colleges offering jewelry design programs for a more in-depth and structured experience.
However, if you want to take the online route, some good alternatives for me are:
Online Jewelry & Metal Arts Degree [Academy of Art University]
Jewelry Design and Repair [Penn Foster]
Jewelry Design [FIT state University of New York]
Why Trust My Recommendations?
I am only here to share an unbiased approach to my experiences, helping you decide which online jewelry making courses will serve the purpose.
As I personally took these classes, I have a first-hand experience with their quality and content. I have explored the course materials, gained valuable insights and skills, and learned from the instructors.
Let Me Help You Choose The Right Course
In case you cannot decide on which course to enrol in, here are some factors to consider that will streamline your decision:
Always look for the supplies that you need to finish off with the course. Pick a course that either provides you a learning kit, or a link to the needed items. It helps ensure you have everything necessary to get started.
Next, ensure the course is per your skill level, whether you have some experience or are a beginner.
Prioritize the online jewelry courses that offer video lessons as they are better for practical subjects like jewelry making, allowing you to experience visually and practice the techniques.
 
Related creative discipline: Leather Craft Courses | Online Pottery Classes | Candle Making Courses | Soak Making Classes | Sculpting Courses | Balloon Decorating Lessons
Clearing Your Doubts About Jewelry Making
A. How do I start a small handmade jewelry business from home?
You can commence your small handmade jewelry business from home by following the below-listed steps:
Identify your target market.
Create a unique product line.
Set up an online store. You can employ a platform like Etsy or Shopify and promote your business via networking and social media.
Always offer top-notch customer service.
B. How do I become a professional jewelry maker?
You can be a professional jewelry maker by comprehending the basics by enrolling in online workshops, online jewelry making classes or taking up apprenticeships. Practice your skills and experiment with different materials and techniques.
Build a portfolio of the work and consider acquiring formal certifications or education in jewelry design. Collaborate and network with industry professionals and present your work via online platforms (Instagram) or exhibitions to gain recognition.
C. What is the highest salary in the jewelry industry?
The average annual base salary for jewelry makers in the United States is $38,644.