Reading Time:
11
minutes
Immunology is a highly crucial branch of biomedical science. It deals with the immune system's physiological functioning that protects us from various pathogens through its different defense lines. Over the years, immunology has changed the face of modern medicine, and the scientific breakthroughs in this field have saved hundreds of lives. The possibility of identifying blood groups, organ transplantation, treating cancer and autoimmune diseases, and the use of monoclonal antibodies has all been possible due to the relentless research in the field of immunology. Especially in the unprecedented times of a pandemic, immunology has become even more imperative as the ongoing research worldwide has helped us create new diagnostics and vaccines for emerging pathogens such as COVID-19.
As a result of this, several biology students, pharmaceutical professionals, researchers, nurses, clinicians, and academicians are interested in understanding the development of common diseases and disorders in the human body.People are on the lookout for the best immunology courses to gain more knowledge and also to obtain a verified immunology certificate online. Now, the reasons to opt for such courses are varied. While some want to enroll in immunology courses online out of their curiosity to understand their bodies, others wish to make a career in medicine and aspire to contribute to science.
Whatever may be your reason, if you put your mind to it, there are several immunology courses online that you can choose from. And if you have already done your share of research and are still confused about the best immunology training courses out there, we are here to help.
TangoLearn, in consultation with 15 biomedical experts, has thoroughly examined the most enrolled immunology class online and has shortlisted the five best online immunology courses that you can register yourself into.
We would suggest that you first go through each of the five immunology courses online and then decide if the course on your mind is the most suitable for you. Rest assured that you will be awarded an immunology certificate online for all these courses.
5 Best Immunology Class Online
5 Best Immunology Courses Online With Certifications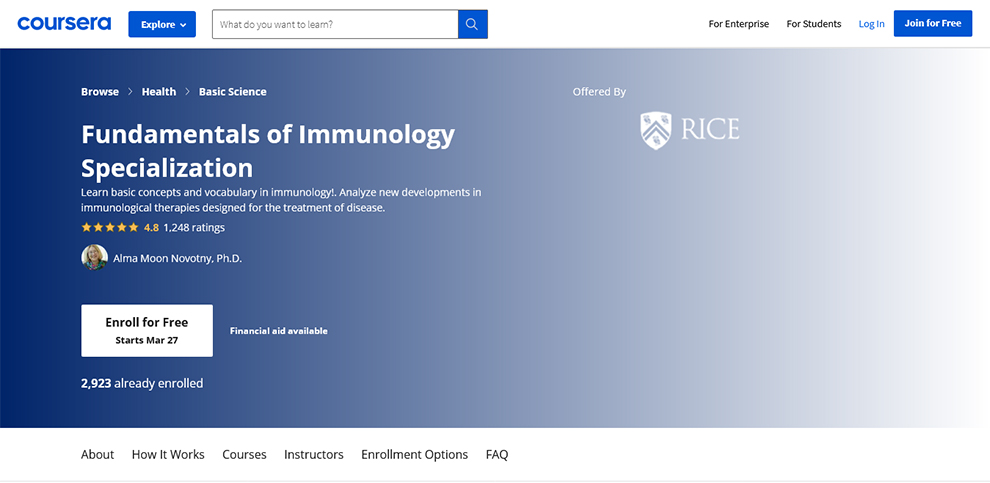 What Is This Course About?
If you are looking for courses that teach you the subject from scratch, the first course in our top immunology courses online is, in fact, a four-course Coursera immunology specialization offered by the Rice University. This intermediate specialization course series will teach you the basics of immunology to understand better the new developments and evolving theories formulated for different diseases. Since it is essential to be well-versed with medical vocabulary, the four immunology courses online will also cover the basic medical terms that you must know. Only then will you be equipped enough to critically analyze the clinical and commercial applications of new diagnostics.
The four fundamental immunology training courses included in this Coursera immunology specialization are:
Course 1: Innate Immunity and B-Cell Function
Course 2: T Cells and Signalling
Course 3: Death by Friendly Fire
Course 4: Dueling with the Dark Side
As already mentioned, this is a specialization course, which means you can either select the best online immunology course from the four courses offered under this package or complete the entire specialization to earn your specialization certificate online. Irrespective, you will be awarded a course-specific immunology certificate online for each of these courses. Plus, subscribing to any one of these courses online will automatically subscribe you to the entire specialization.
The instructor of these immunology training courses is Alma Moon Novotny, Ph. D., a biochemistry and cell biology lecturer at Rice University. These Coursera immunology courses will take approx. six months to complete provided that you commit two hours per week for the immunology class online. However, as these courses are 100 percent online and self-paced, so you have the flexibility to adjust the deadlines as per your convenience. Besides the online video classes, this specialization is also enriched with several practice quizzes, graded assignments, and peer and mentor feedback to help you keep a tab of your progress.
This excellent series of immunology courses online has been rated a 4.8 on Coursera, and it has already been enrolled by 2,823 students so far. Out of all the enrollees, around 11 percent of students were able to kickstart new careers post completing these immunology training courses. Also, approx. 11 percent of the students got professional benefits such as a pay raise or promotion. In case you are planning to enroll in this immunology class online, you can also avail of financial aid.
Courses Included In This Specialization
To give you a quick overview of this course, we have briefly mentioned the areas that will be covered in each of the immunology courses online of this comprehensive Coursera immunology specialization.
The first course will take you through the vocabulary and concepts of immunology that you will need in order to interact with the medical community. You will also learn about the differences between adaptive and innate immune systems. You will proceed to understand the characteristics of different pathogens and the strategies that the immune system employs for protection against these invaders.
This immunology class online will teach you what antibodies are, their detailed structure, and the related immunoglobulin receptors. You will also be familiarized with the features and function of different antibodies, the recognition and stem regions producing mechanism. Plus, you will learn how the antibody structures are expressed in the B-cells.
The second Coursera immunology course will take you through the basics of signaling and how the complement system uses adaptive and innate prompts to target pathogens in the body. You will understand the detailed structure and coding of Major Histocompatibility Complex (MHC proteins). You will understand how these proteins interact with the adaptive immune system to initiate a response. This course will demonstrate the varieties of external receipt and internal activation pathways and how the signals and crosstalk control the immune system activities.
In the third Coursera immunology course, you will learn how the immune cells attack pathogens and the mechanism of inducing apoptosis and what Antibody Directed Cell-mediated Cytotoxicity is. You will be introduced to the inflammatory response and mechanisms of generating tolerance and the decision-making involved in controlling attacks. This course will also teach you about autoimmune diseases, their characteristics, cause, and treatment.
This is one of the immunology courses online where you will learn concepts such as hypersensitivity, allergy, anaphylaxis, anemia, and other skin responses; their identification, prevention, and treatment. Lastly, you will be taught the antibody technology and the methods of testing for incompatibility to prevent transplant rejection.
The last Coursera immunology course of this series will address the persistent clash between the immune system and the health threats. You will learn how certain viral and cellular pathogens use specific tactics to deflect the human immune system. You will also learn about advances in immune-based therapies, such as the use of engineered antibodies to cure particular illnesses such as cancer. This immunology class online will even touch upon vaccine development and vaccination strategies, including herd immunity and the anti-vaccination movement.
Pre-Requisites For This Course
This Coursera immunology specialization requires relevant experience or a biology background to understand the terms and concepts taught in the immunology class online.
 
Sign Up Here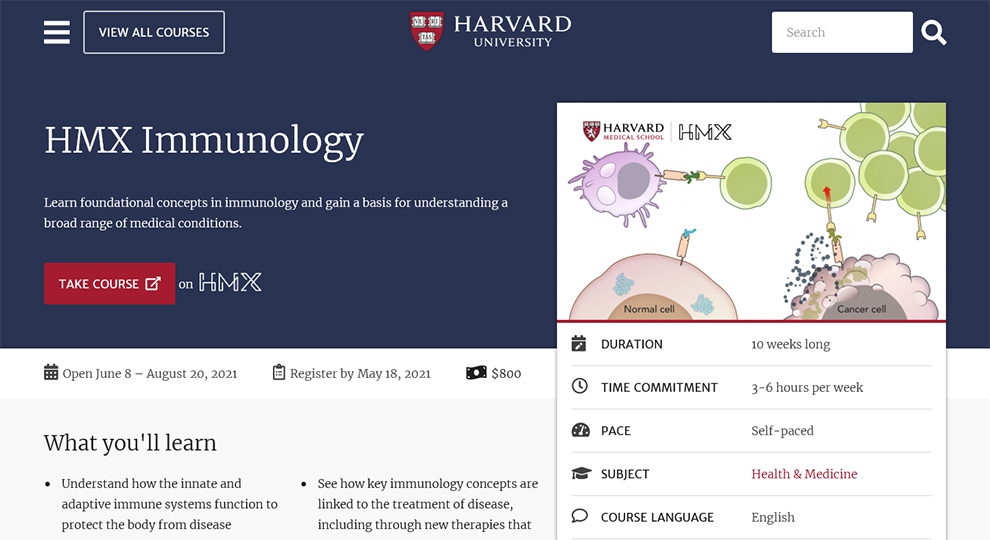 What Is This Course About?
Second in line for the top immunology courses online is a course offered by the online learning platform of the Harvard Medical School. This course will teach you the processes between different entities of our body that equip our immune system to respond to and counter the ever-changing threats from bacteria, viruses, and other pathogens. This is one of the immunology training courses where you will also learn about the autoimmune and immunodeficiency diseases that result from the malfunctioning of the immune system.
This course is the best online immunology course to study this branch of medicine in a clinically-relevant context. This course is also one of the top immunology courses online to learn about the new immune-related diseases and their treatments.
The mentors of this course are Dr. Andrew Lichtman and Dr. Shiv Pillai, both professors at Harvard Medical School. This immunology class online comprises ten sections that will take around ten weeks to complete. The classes are self-paced, but you must prepare to dedicate at least 3 to 6 hours of study per week to complete all the classes and to obtain your immunology certificate online. The commencement dates and last date for registration for this immunology class online have been mentioned on the official site. Another reason why we consider this course in the top immunology training courses is that you get the choice of a free trial before you pay an online fee to enroll in the classes.
What Will You Learn?
The topics included in this immunity class online are:
Innate immunity, the guard cells, circulating leukocytes, the inflammatory events and signaling, and the formation of pus
Antibodies structure and function – B lymphocytes, and how antibodies can cause diseases
Recognition and response of the immune system; innate immune signaling, the antiviral state, and the complement system
Lymphocyte development, the difference between B and T lymphocytes, and lymphocyte receptor diversity
T-cell activation by antigens and supply of antigen to the lymph nodes, the role of dendritic cells, and adaptive immune activation
T-cell-dependent B-cell responses, helper T-cells, and cytotoxic T-cells
Failure of the immune system leading to allergic diseases, immune-deficiency, and auto-immunity
Transplantation and transfusion and neoantigen discovery
Pre-Requisites For This Course
This is an intermediate course, therefore, students with relevant basic knowledge can undertake this immunology class online to bag Harvard's immunology certificate online.
 
Sign Up Here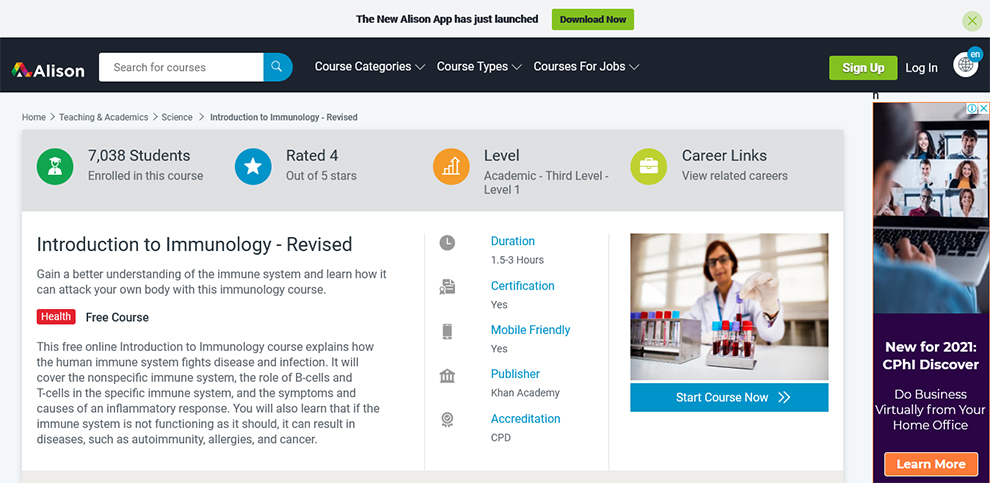 What Is This Course About?
Is it the first time you are planning to pursue a course online and you do not want to invest a lot of money into it? You can enroll in this free Alison immunology class online. This academic course is perhaps the best online immunology course online that you can find for free, which will help you to understand how our immune system equips the body to defend itself by eliminating pathogens. This is also one of the immunology courses online where you will learn the role of phagocytes and their function in the non-specific immune system. Plus, the types and functions of Major Histocompatibility Complexes (MHC).
You will also learn about autoimmune diseases, wherein the immune system goes haywire and fails to protect our body and also attacks it.
If you are in search of shorter immunology training courses, this course can be completed in just 1.5 to 3 hours. This immunology class online has been published by Khan Academy and is also accredited by Continuing Professional Development (CPD UK). It has a rating of 4 with 7015 students enrolled so far. Though you can complete this immunology class online for free, you will have to score more than 80% in the course assessment to receive an immunology certificate online.
Besides, Alison provides three types of immunology certificate online that you can obtain by paying a fee. You can choose from a downloadable digital certificate in PDF format, a physical security-marked certificate, or a framed verified certificate. All three are available on the online Alison shop.
What Will You Learn?
The key areas covered through this immunology class online are:
Role of phagocytes in overpowering pathogens and their role in the innate or non-specific immune system
Types of immune responses – humoral and cell-mediated
The role of B-lymphocytes
Professional antigen-presenting cells and their purpose
Major Histocompatibility Complexes (MHCs) – types and functions
Helper T-cells and their role in eliminating pathogens from the body
Cytotoxic T-cells
Causes and symptoms of an inflammatory response
Pre-Requisites For This Course
This immunology certificate online course is an advanced academic level course that will require prior knowledge of biology and related fields.
 
Sign Up Here
 
What Is This Course About?
New species of pathogens are being identified every year, and a majority of them turn out to be viruses. To be able to fight such invaders and treat infectious diseases, we need newer and innovative immunological approaches to enhance our immune system response. Such discoveries will continue to play a pivotal role for the biomedical, medical, and biotechnology, and pharmaceutical industries.
Keeping this need in focus, the next one in our immunology courses online is the online course in Applied Immunology that aims to study the concepts of mammalian immunology and discuss its role in understanding clinical diseases and therapies.
The duration of this course is around three months, and it is being offered by the online platform of the prestigious University of California. It is currently available in different batches, the dates of which have been put out on the website. This course also qualifies for 4.5 CE credits. You can purchase this course for a one-time fee.
What Will You Learn?
This course is one of the top immunology courses online to study the role of immunology in understanding different diseases. Therefore, this immunology class online will discuss –
The diverse cell types and their functions that form a complex immunological process
Molecular, cellular, and laboratory tools that can be used for research purposes and to devise diagnostic tools for characterizing human diseases.
How the mutation or inhibition of response pathways can lead to disease pathology
Pre-Requisites For This Course
No prerequisites have been mentioned to enroll in the immunology courses online on the UCSD extension. However, listed here are some immunology prerequisites that will help you do better in any immunology course you take.
 
Sign Up Here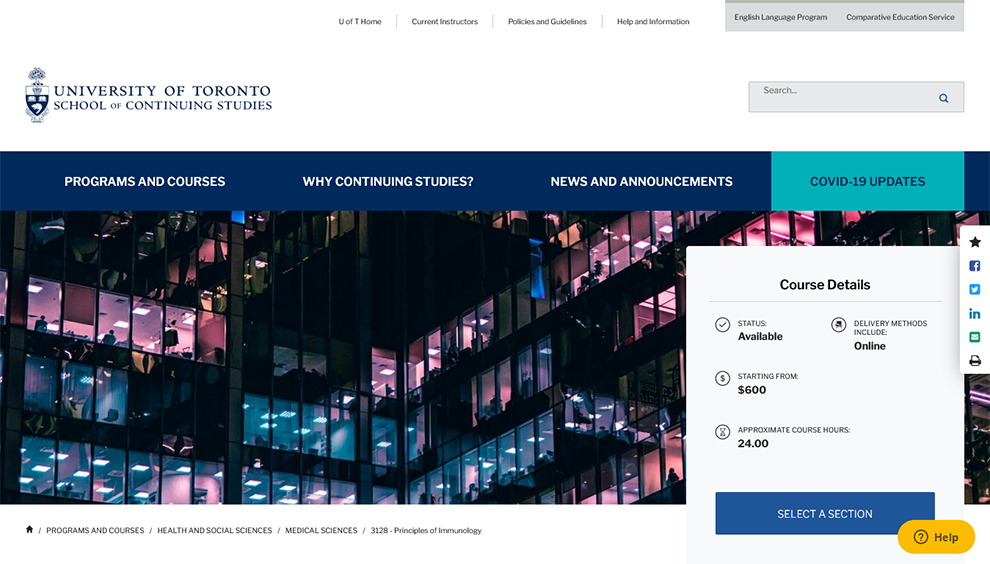 What Is This Course About?
The fifth and the last one in our top immunology training courses is an online class being offered by the University of Toronto, School of Continuing Studying, in collaboration with the Faculty of Medicine. This course is the best online immunology course that will introduce you to the molecular and cellular components of our immune system and its role in health and diseases.
Besides that, this immunology class online will also cover in detail the consequences of an ill-functioning immune system resulting in allergies and autoimmunity. You will learn how the faulty functioning of our immune systems gives way to cancerous growths, transplant rejections, and other diseases such as multiple sclerosis, rheumatoid arthritis, and diabetes.
The duration of this immunology certificate online course is around 24 hours, and it comprises 24 video lectures of approx. one hour each. The hours of this online course are equivalent to a half-course. Currently, three sections are available for Toronto University's immunology courses online – for the spring, fall, and winter sessions. You can enroll in this course by selecting your preferred section and paying a one-time fee.
What Will You Learn?
The topics covered under the six modules of this immunology course online are:
Basics – History of immunology, innate and adaptive immune systems, the role of different cells and tissues of the immune system, and leukocyte communication and movement
Innate Immunity – Immune barriers, pattern recognition receptors, mechanisms of defense
B-cells – Immunoglobulin proteins and genes, B-cell development and activation, and antibody effector function
T-cells – Receptor proteins and genes, MHC structure and function, antigen processing and presentation, and T-cell development and innate lymphoid cells
The Adaptive Immune Response – T-cell activation, differentiation and effector responses, adaptive responses to 'Self' – autoimmunity
Immunity to Infection – immune responses to pathogens, vaccination and immunotherapeutics, and immunity to influenza and influenza vaccines
Pre-Requisites For This Course
Good knowledge of first-year general biology course
Access to a dependable high-speed internet connection to seamlessly access such immunology training courses.
Prescribed textbook – Primer to the Immune Response, 2014, (2NDEdition), Tak W. Mak, Mary, E. Saunders, and Bradley D. Jett. Elsevier Inc., Amsterdam.
 
Sign Up Here
 
Related: Reiki Classes Online
 
Conclusion
That brings us to the wrap of our list of immunology courses online. We live in times where viruses pose a more significant threat than an imminent nuclear war. It is, therefore, vital to continue our efforts to understand and innovate our immunological approaches to be able to adapt our immune systems for different pathogenic challenges. Whether you want to do it through medical research, while working in medicine, or as a part of the pharmaceutical industry, enrolling in immunology training courses online can be an excellent way to start. We hope that our top immunology certificate online courses will help you understand the related concepts in-depth and give you an edge over others in the competitive world.
 


Best Online Immunology Courses is rated 4.9 and reviewed by 14 Immunology Experts & 20+ Immunology Classes Students