Google is one of the leading search engines, and the majority of the things on the internet revolve around it. On the internet, there are several certifications by Google, especially in the technical domain. These will make you stand out from the rest of the crowd.
Fortunately for you, Google offers some of them at absolutely no cost. So, when you can develop your skills with a giant like Google, why should there be any apprehensions, right?
So, go ahead, take a look at the below-listed best Google certification courses, which have a myriad of things to teach you. Let us get started and address them one by one.
Top Google Certification Courses
6 Best Google Certification Classes and Courses for 2023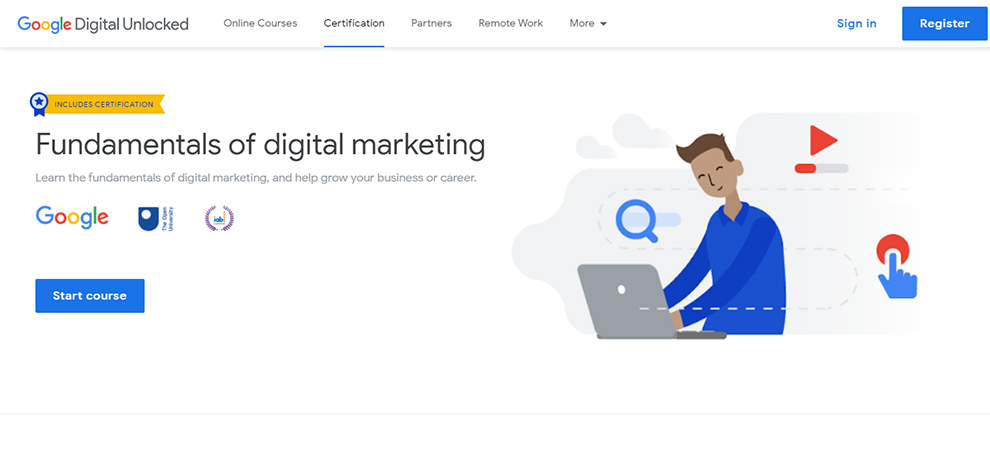 In this Google certification training, you will grasp the digital marketing fundamentals that can help give a boost to your business and career. This is one of the top Google professional certificates courses offered by Google directly, making it one of the globally recognized certifications.
| | |
| --- | --- |
| Modules | 26 |
| Level | Beginner |
| Paid/Free | Free |
| Certification | Yes |
| Duration | 40 hours |
This is the best Google professional certificates course as it is Interactive Advertising Bureau-accredited, and all the resources, including the informative, high-quality video tutorials in the course, come with unlimited access.
It is one of the top-rated Google certification courses, as it comprises twenty-six modules, wherein you explore every aspect of digital marketing. These are created by professionals at Google and are full of several real-world examples and practice questions to give you a good practice of the content.
So, go ahead, and learn the new digital marketing skills via the bite-sized video tutorials, and assess your learning by taking the quick quiz in the end. Once you clear the 40-question exam with this course, you will bag yourself a certification.
Skills you will learn:
These are the best Google certification classes to teach you digital marketing fundamentals. In addition, there is an array of skills that you will grasp with this best Google certification training, namely:
Analytics and data insights – Here, you will learn to collect and analyze the user data to extract actionable insights from it.
Content marketing – This part will teach you brand awareness and help you get more conversions by distributing and creating top-notch content for potential customers.
Business strategy – Here, you will understand the drill to track and define business goals, analyze data, segment your audience, and boost your online marketing efforts.
E-commerce – Here, you will be thorough with the tools and strategies required to start an online store, optimize user experience, and sell online.
Mobile marketing – You will understand the difference between mobile apps and websites and develop the most effective mobile advertising and SEO strategies.
Local marketing – You will learn the tricks and tips to engage and reach the customers located around you using mobile marketing, local directories, and creating a local search presence.
Email marketing – You will be made thorough about the email marketing fundamentals, such as tracking responses, using A/B testing, and creating simple landing pages.
Display advertising – Here, you will learn everything to know to get online recognition via ad networks, identify the right audiences, and use the correct display strategies for your ads.
SEO – You will learn the difference between paid and organic search, optimize web pages, and develop the most functional SEO plan to make it easier for the users to find your content online.
Web optimization – This part will make you thorough with the correct channels to materialize your business goals and build a better user experience.
Video marketing – You will learn to integrate video in your online strategy, create video ads on a budget, and have your ads seen by the right people.
Social media marketing – You will learn to identify the right social networking websites, create content your users' love, and measure your online success.
SEM – Herein, you will learn about Google ads, different research tools, choosing the right keywords, and optimizing campaigns for a great return.
Why take this course?
It is one of the best Google courses with certificates. Having the best Google professional certificates is a major boost for your CV. It shows potential employers that you have a precise understanding of all the vital aspects of digital marketing.
Furthermore, the certificate received from this Google certification training is shareable. So, you can upload it on your LinkedIn profile or print it to add to the CV and boost your chances of landing a job.
Also, completing these Google online certificate programs and having the certification depicts that you have the necessary skills and you are driven to learn.
Lastly, having digital marketing skills in general, too, elevates your chances of getting a salary hike, finding the desired job, getting promoted, or starting a career of your choice.
On Udacity, you can find an array of Google online certificate programs for various categories. A good thing here is all these Google certification courses online are worth every penny.
There are Google professional certificates courses available in:
a. Android
In this section you will find classes to build, design, and publish phenomenal Android apps. These are all the best Google online certificate programs that come with the nanodegree.
A few of them are:
 
Beginner-Level:
Intermediate-level:
b. Tensorflow
This program will learn to deploy and build deep learning apps using TensorFlow.
 
Related: Best Kotlin Courses
 
Two of the best Google certification training programs that you can try are:
c. Web
These are the best Google professional certificates courses that will help you build engaging, beautiful, and scalable apps for the world's greatest platform.
There are Google certification classes for both intermediate and advanced levels.
 
Intermediate-level
 
Advanced-level Google certification training
d. Firebase
These Google certification classes help you develop top-notch quality apps, make greater profits, and boost your user base.
All Firebase Google online certificate programs are intermediate-level courses.
These include:
In addition, you can also find Google certification classes on VR, Deep Learning, Tech Entrepreneurship, and a myriad of other courses built with Google.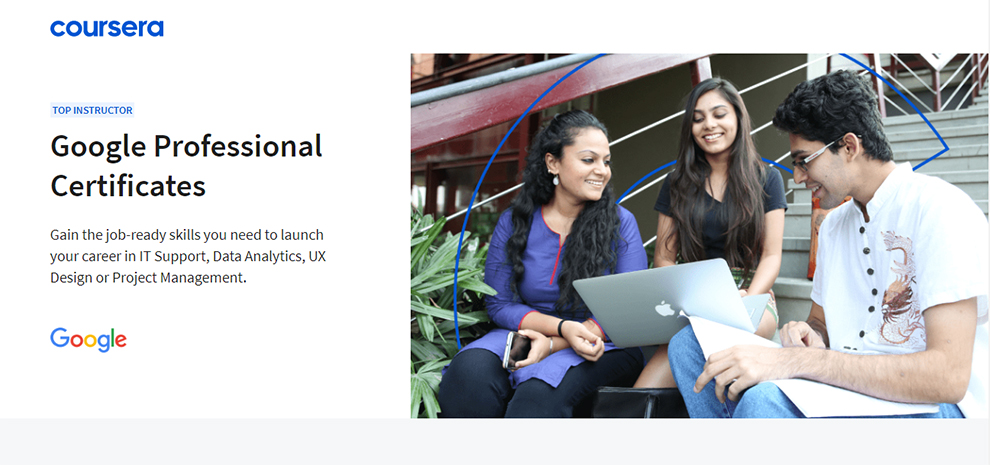 In this Google certification training, you will acquire the necessary job-ready skills necessary to help you begin a career in Data Analytics, IT Support, Project Management, or UX Design.
A few classes that you can take from Coursera are:
It is one of the entry-level Google courses with certificate, which prepares you with the necessary skills to be a data analyst. In this course, you will learn to transform, collect, and organize the data in an organized fashion to help you extract new insights from the data and make informed decisions.
In this Google professional certificates course, you will work with uncovering trends, numbers, and visualizations.
Another one of the best Google certification classes that you can take is this. It is an excellent course, which prepares you for an entry-level job as a project manager.
This course will teach you how to start, plan, and execute a project with agile and traditional project management approaches. It is one of the best Google certification courses for you if you like working with organizations and people and enjoy solving problems.
In this Google certification training, you will be prepared for an entry-level job as a UX designer. You will develop foundational UX design skills. Further, the course will teach you to design prototypes in tools, such as Adobe XD and Figma. You will also learn to perform user research.
This is another one of the best Google professional certificates that helps you prepare for an entry-level job as an IT support specialist. The course will teach you all the networking and operating system fundamentals.
You will also learn to troubleshoot problems with code to ensure that computers run smoothly. Anyone who likes to help others, know new tools, and solve problems will find this one of the best Google online certificate programs.
It is an advanced program, ideal for the learners who have taken the Google IT Support Professional Certificate. However, anyone who aspires to work on an automation and IT skills with Python will find this course helpful.
Why should you take the Coursera Google professional certificates courses?
In these Google certification classes, you will be taught job-ready skills directly from Google professionals and experts. The skills grasped during the course will help you work in the chosen field. You do not need any prior degree or experience to take these classes.
With these certificate programs, you can acquire top-notch learning on-demand. All of them are online courses. So, you can learn in your schedule. By dedicating 10 hours or less in a week, you can be well-prepared in less than a week.
The course comprises multiple hands-on projects that will give you a chance to apply all that you have learned.
Once you are through with these courses, you will bag a professional certificate from Google.
You get access to exquisite tools, such as mock interviews and resume builder, that helps refine and boost your resume and elevate your networking and interview-giving skills.
In these Google certification classes, you will learn Google tools that are widely used at work. These will be all actionable skills that you can use right away and are taught by renowned Google product experts.
As these are all online Google professional certificates courses, you can learn them at your pace. Once you are through, you will bag a certification authenticated by Google.
What will you learn?
The Google certification classes by Skillshop are aimed at helping you use Google products to their full potential. So, browse through the available courses and see how you can find success with these newly acquired skills.
You can find Google professional certificates courses to learn about: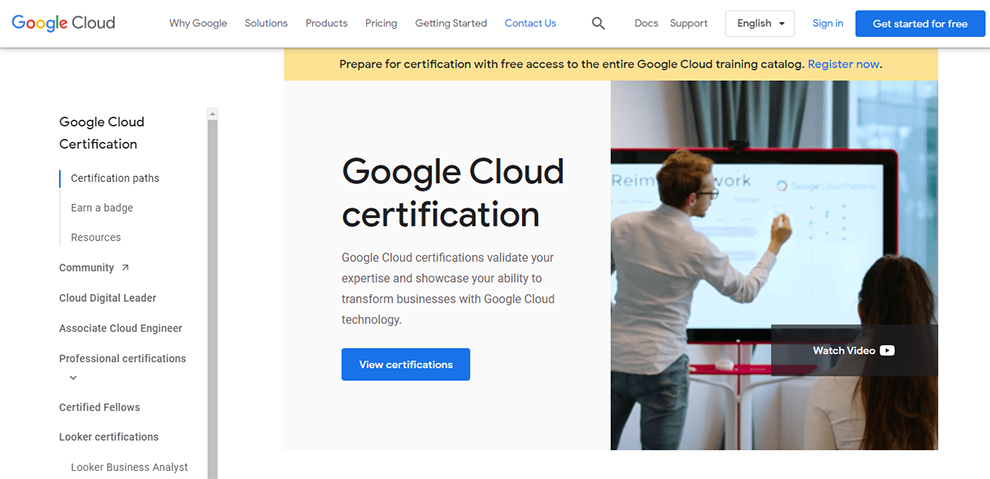 Next, on our list of Google courses with certificates is Google Cloud. These certifications authenticate and demonstrate your ability to transform businesses with Google Cloud technology.
Why opt for the Google cloud certifications?
Eighty-seven percent of people who took the Google certification classes are more confident in their cloud skills.
In the 2021 survey, Professional Data Engineer tooled the list of highest paying IT certifications.
Over one in four Google Cloud-certified individuals took on the leadership or responsibility roles at work.
Which Google certification is ideal for you?
Foundational Certification – These Google professional certificates authenticate the knowledge of the Google Cloud products and concepts, features, benefits, tools, services, and use cases.
 
Broadly, having these certifications showcase your understanding of the Google Cloud. It is suitable for individuals from non-technical job roles who can bring value to the organization but have no prior knowledge or experience.
Associate certification – These are the best Google certification training suitable for you if you need the fundamental skills of maintaining projects, monitoring, and deploying on Google Cloud. In addition, these can be an excellent starting point for those new to the cloud, wanting to use certification to make a career in Google Cloud.
Professional certification – These Google certification courses online assess your advanced management, implementation, and design skills and are suitable for individuals with prior familiarity and industry experience in Google Cloud products and services.
Analytics Academy also has an array of the best Google certification courses, wherein you acquire the knowledge about Google's measurement tools to help you boost your business via intelligent data analysis and collection skills.
Some Google certification courses online you can take are:
Herein, you will learn the fundamentals of Google Analytics, involving skills, such as:
Implementing tracking code
Creating an Analytics accounts
Setting up goals
Campaign tracking
Analyzing the basic reports
Herein you will learn all the advanced features, such as:
Processing and configuration
Data Collection
Knowledge of marketing tools
Complex analysis
Once you are thorough with different features provided by Analytics, you will perform hands-on, actionable analyses to keep a tab on the business performance and identify the areas to boost your business.
Herein, you will learn the robust Google Analytics 360 features unavailable in the standard Google product. Further, the course will offer you insights into how integrations with Google Ad Manager, Google Marketing Platform products, and BigQuery can be advantageous for you.
Herein, you will practice and learn beginner steps in connecting data and developing Data Studio reports.
Lastly, you can take this one of the best Google certification classes to simplify the tag management and implementation process. It is ideal for developers, analysts, and marketers.
 
Conclusion
So, these are the top six Google Certification courses online. Before selecting one, you can browse through our guide and even visit the annexed link to know more about the listed Google professional certificates.
[xyz-ihs snippet="schema-best-google-certification-courses"]