Reading Time:
10
minutes
I can vouch for Udemy's Ultimate Digital Painting Course. It is meant for all levels, brings you a certification with lifetime access, and is a great value for money buy.
When I discovered my love and passion for digital painting during college, I was in my second year of Fine Arts program. Thanks to online digital painting classes that I could brush up my in digital art as well as complete my college degree simultaneously.
Via personal experience and extensive research, I have identified many key criteria that make a course suitable for digital painting enthusiasts like myself.
These include hands-on practice with industry-standard tools and software, understanding different digital painting techniques, access to a supportive community of artists and opportunities for critique & feedback, and engaging assignments and projects.
Employing these criteria, I have created a list of nine online digital painting courses that have helped me excel in this domain.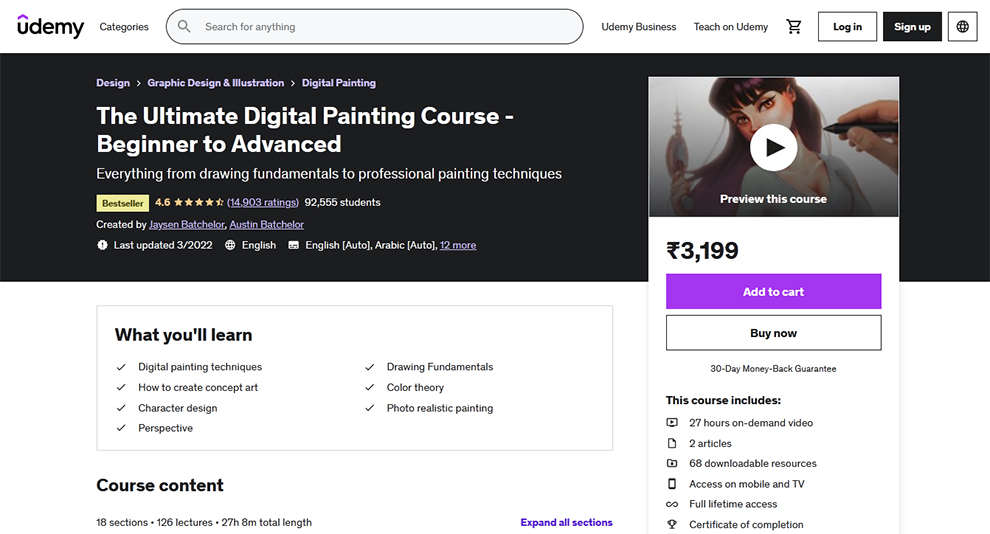 About The Course
Price: $124.99
 
Duration: 27 hours of on-demand video
 
Instructor: Austin Batchelor and Jaysen Batchelor
This is the best digital painting course for me as it ticks all the boxes I was looking for. Firstly, it took me from an amateur beginner to an advanced level, offering a step-by-step approach and making it easy to grasp the concepts.
With over sixty projects to practice, I had ample opportunities to apply what I learned and better my skills. Another advantage is the direct access to the instructors who are supportive across the course and well-equipped with all the industry knowledge.
Considering the wealth of instruction you receive, I find these classes affordable. The fact that it is presented by Udemy, which offers a certificate of completion offline viewing, lifetime access, and a 30-day money-back guarantee, solidified its position as my top choice.
What Are the Things I Learned from This Course?
In this comprehensive Udemy digital painting, you will acquire the vast knowledge and skills necessary to elevate your artistic abilities. So across the eighteen chapters, I picked up the following things: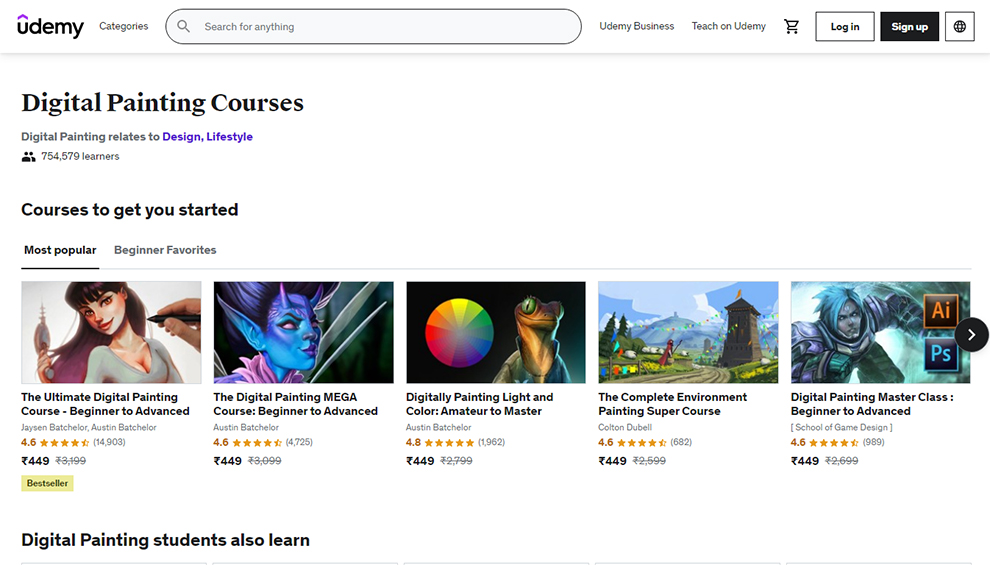 The fundamentals of drawing, including line work and 3D form.
Perspective techniques, covering 1, 2, and 3-point perspectives.
The interplay of light and color enables you to create realistic highlights and shadows.
Still-life painting is an essential aspect of artistic development.
Color theory and effective color palette selection.
Brush control and blending techniques.
Painting various textures and materials, from rough surfaces to translucent objects.
Portraiture, including detailed features such as eyes, nose, mouth, and ears.
Landscape painting, both from life and imagination.
The process of colorizing black and white paintings.
Photo-realistic painting techniques for achieving highly realistic artworks.
Character design, exploring the creation of unique and captivating characters.
Overcoming creative blocks and nurturing artistic imagination.
Building a portfolio and understanding art directors' expectations for professional opportunities.
Overall, this is the best digital painting course that offers a comprehensive learning experience, ensuring you acquire a solid foundation in digital painting and gather skills to excel in the field.
What Not To Expect From This Course?
While you get comprehensive experience with this course, it has its drawbacks and limitations that you must know. So, here are some things you should not expect from these digital painting classes online:
1. Regular updates and monitoring: I experienced a lack of monitoring, and while it was last updated in March 2022, it still does not have the recent Photoshop releases.
 
2. Limited instructor support: I completed the class in three months. During this while, I contacted the instructor five times. In the first two times, I got an instant response, but in the later three times, I found the instructors non-responsive to inquiries and messages. It is something my peer also noticed. So, I must alarm you.
 
3. Consistency: The quality of instruction is not the same throughout. In some sections, the quality lacks and seems superficial and vague, providing little valuable insights or practical guidance.
 
4. Technical issue: Though it is not something I experienced, some users complained of non-functional videos. I understand how frustrating it can be.
What Do Others Have To Say About This Course?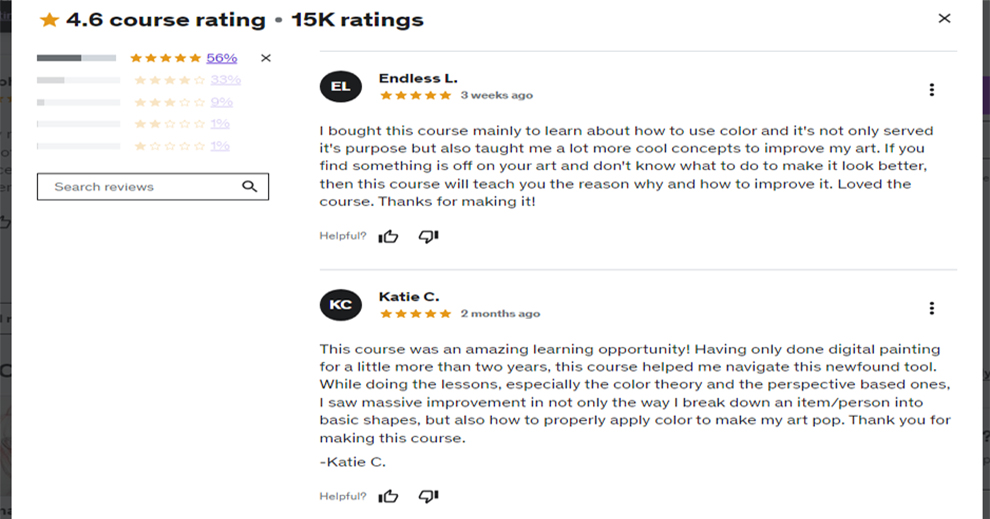 Here's a gist of what other learners think about this online digital painting course:
"It's a very rounded and robust course. I have had a lot of this training in the past but this is a great price for it and the course is well laid-out and presented so far. – John B C.'
"I am no beginner but took this course anyways to see if it could help me brush up on some fundamentals to improve my digital illustrations. You guys did a decent job covering all the basics and I learned some new things too! – Swathi S."
"Why are some courses not working ? Some lectures are not playing at all? – Gurman K."
"I'm a beginner to digital art and it was pretty hard even to draw basic things when first using a tablet, I think this course would have been better if it had started out a bit easier. – Milo W."
Do I Agree With The Reviews?
Based on the reviews provided, I generally agree with them. While I did not experience any issues with videos not working, some of my peers encountered such problems. I believe these technical issues are likely due to software glitches or other technical errors that can be resolved by contacting Udemy for support.
As for the course difficulty, I was a beginner myself and found the course manageable and easy to follow.
Additionally, once you start the course and get to see your instructors and hear them talk about their experiences, it reinstates your faith that you're in the right hands.
Some Other Digital Painting Classes To Check Out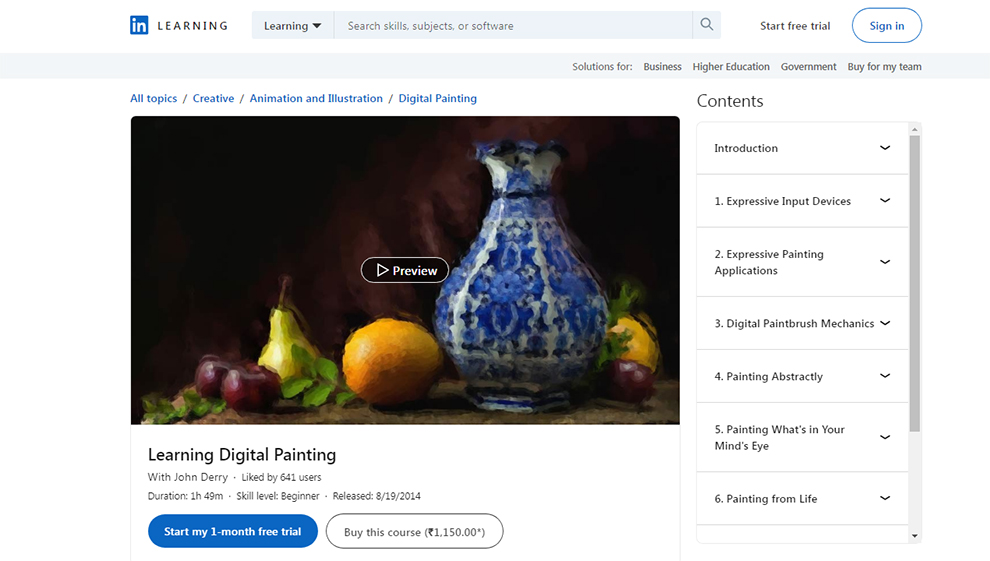 About The Course
These beginner-friendly classes do not require a lot of special equipment to get started. All you need is a computer, some creative ideas, and the right software to take this class.
Your instructor, John Derry, will help you with the rest – working with layers and brushes, mixing paint, sketching, and using color creatively.
Further, in these lessons, you will also learn unique digital techniques. The instructor also covers concepts, such as painting with cloning or dipping a paintbrush into a photograph.
So, even when you have never picked a conventional paintbrush, the techniques taught in this course will help you create your unique works of art.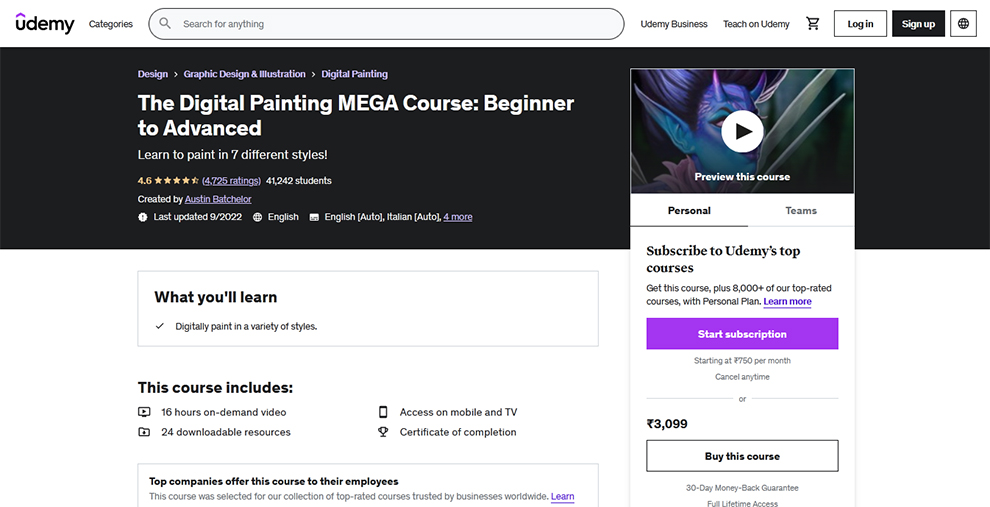 About The Course
It is an excellent beginner-to-expert course with a rating of 4.6 that helps you create avant-garde art of professional standards.
In this Udemy digital painting class, you will learn digital painting fundamentals, light and color application, brush techniques, and multiple painting styles and textures.
It has sixteen sections and 116 lectures that cover topics like shape and form, painting fundamentals, underdrawing, contrast and value, color and light, photo-realistic painting, water painting, and building texture.
To begin your journey with the class, you must have access to the painting software, a fundamental software understanding, a drawing tablet, and wishful thinking to better yourself as a painter.
The course assures personal contact with the tutor, a certificate of completion, many worksheets for practice, and quizzes for assessments. It is ideal for beginners and anyone hoping to pick new styles.
About The Course
Imparted by an ace instructor, Ricardo Guimaraes, the Coursera online digital painting course is a part of the Art for Games Specialization. It lets you build subject-matter expertise.
By enrolling in the class, you auto-enroll in the specialization and learn new concepts from industry experts. It has five modules that help you gain a foundational understanding of concept art, focusing on composition and digital painting techniques.
By completing hands-on projects, you will develop job-relevant skills and have the chance to create a fully finished environment concept. With a flexible schedule and the ability to learn at your own pace, you can earn a shareable career certificate from Michigan State University.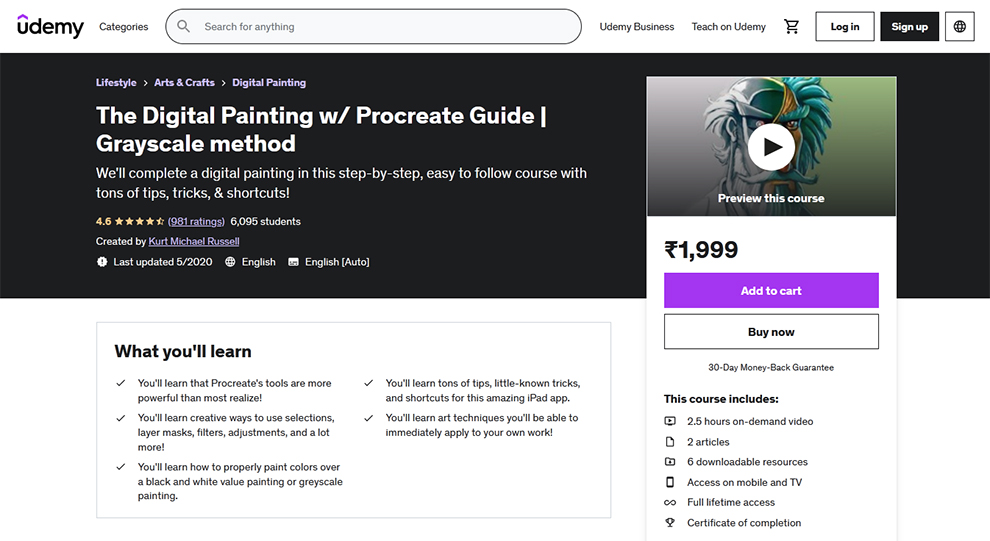 About The Course
A top-selling Udemy course, these digital painting classes online focus on digital painting with the Procreate app on the iPad. You will study with Kurt Michael Russel, a professional artist who follows a step-by-step approach to impart knowledge.
His instruction is easy to follow. You will learn everything from grayscale to color. Further, the class teaches beginners to focus on crucial aspects like value and contrast.
I loved how the course has many shortcuts, tricks, and tips by Kurt that put forth the Procreate's powerful tools. It has 2.5 hours of on-demand instruction and six downloadable resources.
Participants will require basic drawing skills and fundamental Procreate knowledge to commence their journey on this course. It is ideal for anyone who wishes to acquire tips and tricks to learn Procreate and digital painting or hopes to better grayscale to color techniques.
About The Course
Next, we have a beginner-level Skillshare course, and more than 1,00,000 students have taken it. This class has 440 projects and 20 lessons of one hour and twenty-four minutes. You can check out their website to learn more about the instructor and supplies needed for taking these classes.
About The Course
It is a beginner-friendly Skillshare digital painting class that offers 1 hour and 58 minutes of content broken down into easy-to-follow 23 units.
Approximately 1,30,000 students, and like me, I believe they, too, had a positive experience with it. The presence of 795 projects was a highlight for me as it gives ample hands-on training, which proved beneficial in my journey with Procreate.
In this class, you will learn to use Procreate on the iPad Pro effortlessly. By the end of this course, you will be able to create digital illustrations. The entire process will feel natural and intuitive as if drawing with paper and pencil.
The class covers all the hidden gestures and tools to make digital illustrations. Further, you will also learn to create and share a cool time-lapse video of art.
Procreate will completely revolutionize how you create art. After taking this Skillshare digital painting course, you can draw anywhere on the couch or on the airplane. So, go ahead, and enroll in this course to get pro at digital painting.
About The Course
Here I started with Photoshop by importing a nice underwater video clip. The instructor selected a starting point to paint the ghoul's face over the footage. After I and the instructor liked the first pose, I created a duplicate layer and utilized the tools to create two more poses for the face.
In the next part, comes After Effects. Further, I was required to track the face's motion in the footage and apply the information to the ghoul layers to ensure that the movements match.
Lastly, comes employing excellent animation tools in After Effects to build the jaw dropping animation and a few other finishing touches to extract the illusion together.
Towards the end of these digital painting classes, I was in a position to understand how you can digitally paint visual effects, composite Photoshop-layered files over live footage in After Effects, and use powerful tools to help integrate the effects. For this course, you will require Photoshop CC 2014 software.
About The Course
This course has been tailored particularly for artists who wish to transition their analog skills to a digital canvas. You will learn from Daniel Lieske, a video game artist, and a comic book illustrator.
He will share the techniques and tips to streamline the workflow, organize your illustrations, and help you create art. Further, Daniel will help you learn to use digital brushes, selections, masks, color pickers, texture tools, and additional Photoshop features.
Once you are through with Photoshop, you will also practice through the creation and completion of three complete illustration projects. This beginner-level course will take you five h 16m to complete.
How Can I Learn Digital Painting Online For Free?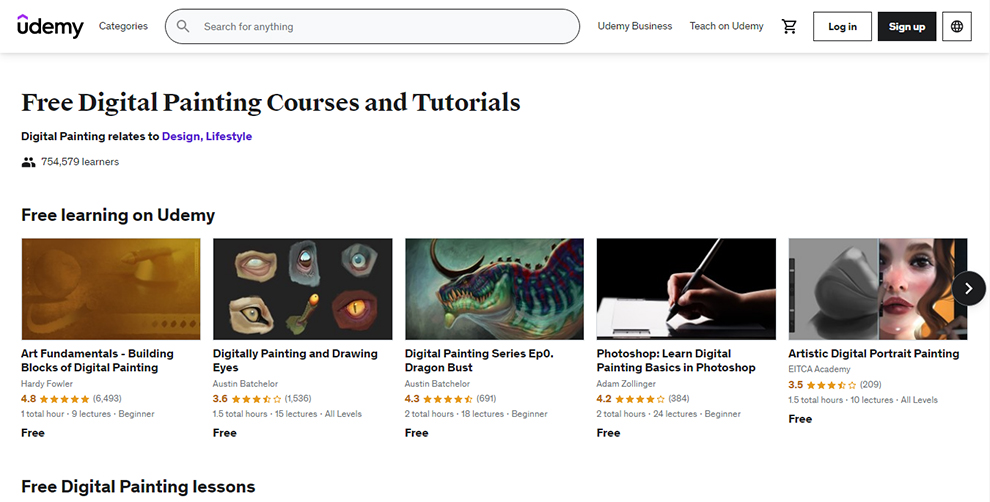 Not everyone will be up for paying for digital painting classes and might look for no-cost alternatives. Here are my recommendations for you:
Are Free Digital Painting Courses Worth It?
Yes.
The free courses can be an excellent alternative for beginners on a tight budget. They offer an opportunity to learn and practice basic skills sans any financial commitment. But on the low side, they may not have the depth, cover advanced techniques, or offer personal feedback as in the paid courses.
Let Me Address Some Commonly Asked Questions About Digital Painting!
A. What Is The Fees For Online Digital Painting Courses?
The fees may vary depending on the instructor, platform, and course material. You can find free and paid options costing between $10 to $200 or more. Prices may vary based on geography, ongoing sales, course duration, and level.
B. Which Software Is Used For Digital Painting?

 
Various software options are available for digital painting, including popular choices such as Adobe Photoshop, Corel Painter, Procreate, Krita, Clip Studio Paint, and more.
C. How Many Types Of Digital Painting Are There?
Broadly, there are four types of digital painting. These include:
Manual Vector Drawing
2D Digital Painting
Dynamic Painting
Media Hybrid Painting
D. Which Kind Of Digital Painting Should I Learn?
I recommend you go for 2D digital art. It is widely popular and encompasses various painting styles within the digital medium.
Getting adept at 2D digital illustration will provide a solid foundation and open up a world of creative possibilities. And basically when you know this, you can build up on it and learn other types.