Reading Time:
11
minutes
DAT or Dental Admission Test is designed and developed by the ADA or the American Dental Association. The course is administered year-round at Prometric Testing Centers. This is a multiple-choice standardized exam. It is taken to enable the dental school admissions officers to check your knowledge of the subject. You can understand the test as the prerequisite to studying dental medicine and is a mandatory prerequisite for most dental schools as part of their admissions process.
Now, the fact of the matter is the DAT scores are becoming more and more competitive with every passing year, and this upcoming year we saw them at an all-time high. It goes without saying almost every dental school tends to screen and select the candidates solely based on their DAT score. So, why because of a few points less, you want to let go of your chances of studying at best possible Dental school?
To score high in the Dental Admission Test, you need to possess the right knowledge, which can be availed from proper training. So, to avail all the necessary knowledge, skill, and understanding, you need to enroll yourself in a DAT preparation course. If you browse through the internet, there are tons of thousands of courses available. From this overwhelming variety of selections, how do you make your pick for the best DAT preparation course? We are aware of this problem, so we sat down with a team of renowned and proficient dental experts worldwide and shortlisted the five best DAT courses online.
Before we start with our list of courses, there is a quick disclaimer that we would like to give. These courses have been selected after assessing them on the following five parameters:
Preparation relevance to the actual DAT exam
How well-crafted they are
The past success rate of the course
Knowledge and efficiency of the educator
Ratings and reviews of the course from the students who have taken the course in the past
Now, let us get started and address the best DAT preparation courses on the internet one by one.
Best DAT Preparation Courses Online
Best Courses and Study Materials for DAT Preparation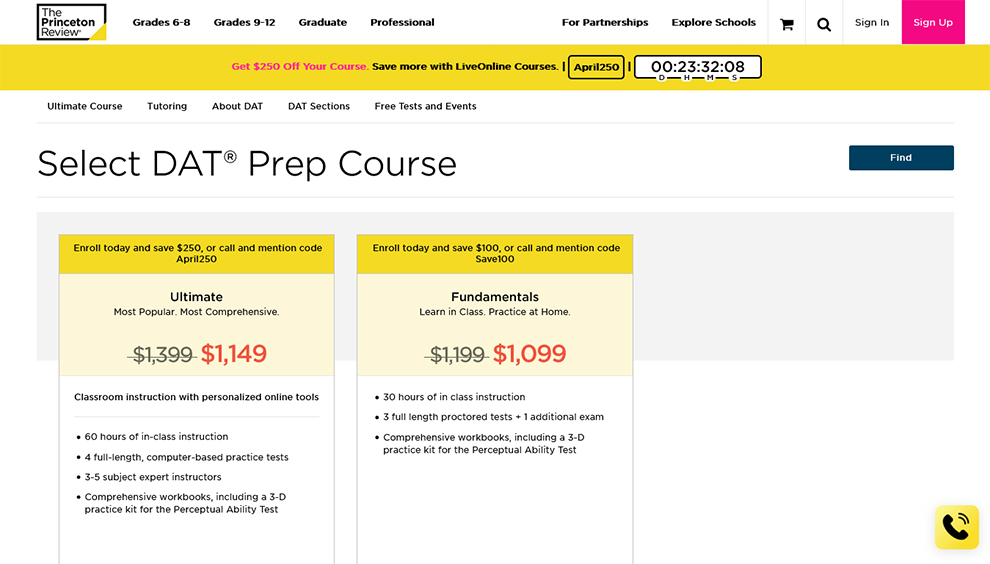 What is this course all about?
Ranked on top of our list for the DAT test prep courses is a two-course set by The Princeton Review. These DAT test prep courses are incredibly beneficial and can be taken by someone who wants a reliable DAT exam prep.
First is their ultimate DAT course, which is excessively popular and hugely comprehensive. In this course, you will get access to classroom-style instructions with personalized online tools. This DAT course has 60 hours of in-class instruction, along with four full-length, computer-based practice tests. In this course, you will be taught by 3-5 subject expert instructors. So, the instructors who you learn from are experts in their taught subject. There are also comprehensive workbooks, including a 3-D practice kit for the Perceptual Ability Test included in this DAT course.
What's more? With this DAT course, you also get The Princeton Review Guarantee. To learn more about this course, you can visit their website.
The second of the two DAT test prep courses is a Fundamental course by The Princeton Review. In this course, you learn in class and then practice at home. The class comprises 30 hours of in-class instruction. Additionally, with this course, you also get three full-length proctored tests and one additional exam. There are also comprehensive workbooks, including a 3-D practice kit for the Perceptual Ability Test, available with this course.
As we have ranked The Princeton Review DAT test prep courses on top of our list, an obvious question may come to your head, Why The Princeton Review? Let us give you a few reasons why we think that these two are the best DAT test prep courses on the internet.
The Princeton Review assures productive preparation. The instructors understand the fact that excellent scores take immense hard work. This is why they have designed their courses to be targeted, efficient, and strategic to ensure that you make the most of every minute you spend in your preparation.
With these courses, you can be assured of quality content and seamless delivery. The Princeton Review experts tailor design every lesson depending on how well you learn. It means that they do not just record the classroom lessons and put them in the self-paced preparation; they take it a step forward and design every lesson for self-paced.
The instructors and the teachers associated with The Princeton Review are experts on their subject. They ensure that all the lessons are engaging for you. Throughout the classes, the teachers maintain a sense of humor (of course, along with their expertise) to ensure that the sessions are engaging, fun, and light. This is before you get into the 40 hours of training! Lastly, studying from the Princeton Review instructors in these courses guarantees you higher scores and a remarkable test prep experience. If in case you do not score as good, they refund your tuition fee or let you prep again for free.
Sign Up Here
 
You might also want to check out these free courses by Princeton online.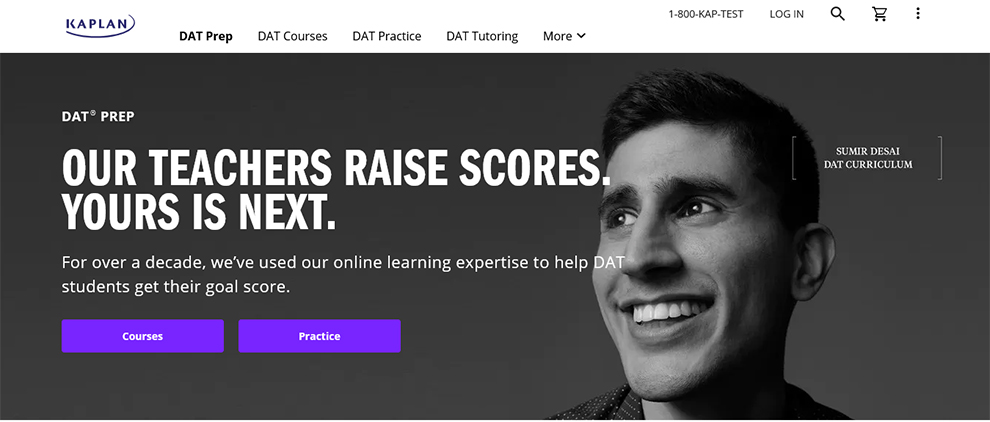 What is this course all about?
The next DAT course on our list is a course by Kaplan. The educators at Kaplan work hard to help you raise scores in the DAT exam. So, if that is what you need, get ready and enroll in the Kaplan DAT course right away.
Kaplan has been offering DAT preparation courses for over a decade now, and in this while, they have utilized their online learning expertise to enable the DAT students to get their goal score.
The question that may hit your mind is why choose Kaplan, and why should you trust the DAT study materials from them? Well, we will help you see why.
Firstly, Kaplan provides you with more guidance and flexibility throughout the course. More so, in this preparation course, you will study from some of the best DAT teachers who have years of experience, the right skill, and knowledge behind them. In this prep course, you can be assured of all the preparation material in one place.
The course professionals with Kaplan believe that your way is the only way. So, you can study efficiently and save time with practice, which targets your specific needs. You can even build some customized quizzes with Kaplan's Qbank. This can give you a more targeted approach.
A principal reason why we think this is the best DAT prep course is that it has everything you need in one place. So, from science review to strategy, along with an array of practice, whatever you need can be easily found in one place. Further, the good thing is that the course has been redesigned and fully updated using the feedback from students who took this course in the past.
So, with this DAT prep course, you get real practice for the real thing. In this DAT exam prep, you can practice with seven full-length tests. Hence, you will know in advance what to expect on the day of the test. Taking this DAT exam prep, you can be familiar with the DAT format and content, strategy, and pacing, all while building concentration and confidence.
Studying from the study materials offered by Kaplan, you can be assured of scoring high. Moreover, with them, you get a Kaplan guarantee. What is it? It implies that you can get your full money refunded back if you do not score a high score. This DAT course also comes with a free consultation. So, before enrolling yourself in the course, you can speak to an expert and have all your questions answered. All of this comes for free.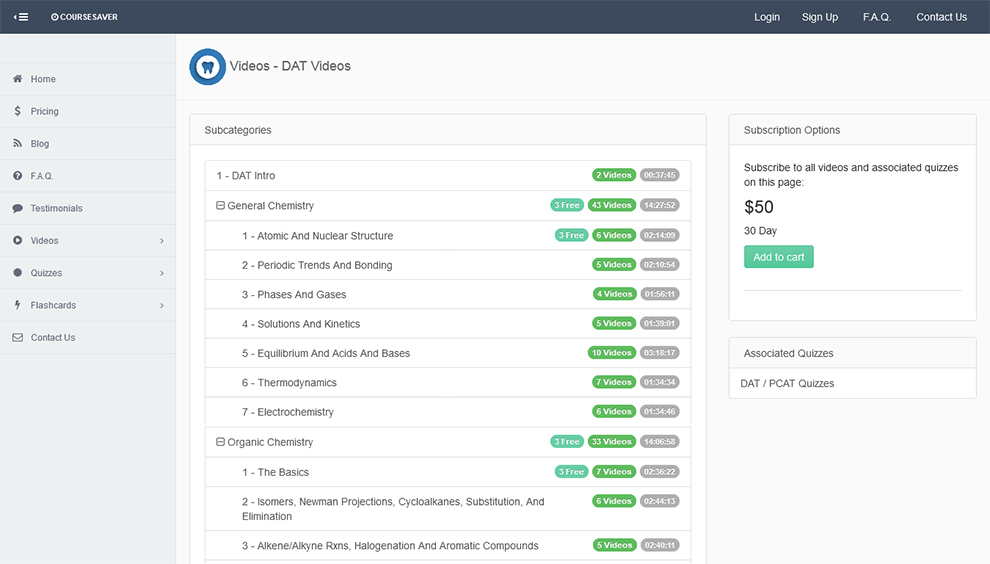 What is this course all about?
At number third on our DAT study materials list is the DAT exam prep material by Course Saver. On their website, you can find a plethora of video lessons and quizzes that can help you with your DAT exam prep and help you score better in exams. Go ahead, browse through the different videos on their platform, and see through the videos where you feel you require more practice and shop for the same. After you are through with all the video lessons on their website, you can check out some of the quizzes on their platform. These quizzes can help you test your knowledge of what you have learned. This is indeed one of the best DAT prep courses for you.
Review Bodom:
"
Awesome videos. Have used for classes in the past and will use them for the MCAT. Thank you Chad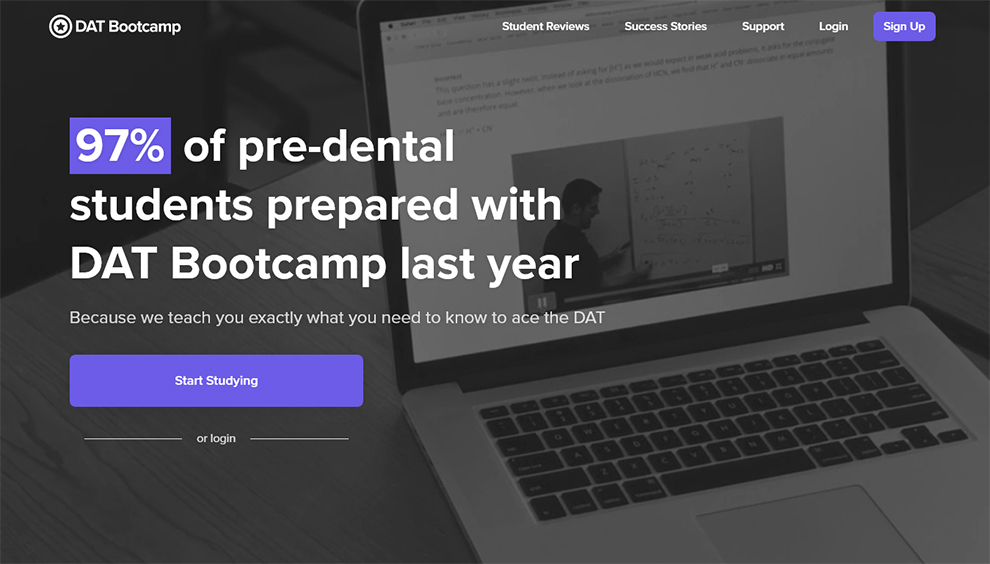 What is this course all about?
The fourth DAT course on our list is a course by DAT Bootcamp itself. Just last year, ninety-seven percent of the pre-dental students prepared with DAT Bootcamp. Do you know the reason so many students prefer to study from DAT Bootcamp's DAT study materials? It is because of their comprehensive DAT study materials and the instructor. Through this course, he will teach you exactly what you ought to learn to ace the exam. They claim that theirs is the only study tool you will ever need for DAT exam prep.
What's more? If the many reviews and even the instructor claims are to be believed, they have the most extensive set of DAT study materials. So, it implies that when you enroll in their best DAT prep course, you will be studying with more video lessons, practice tests, and questions than anyone else.
Further, in this DAT prep course, you will study at a guided study schedule. So, it implies that even though it lacks flexibility, this prep course will help you stay on track and study just what you absolutely need to know. More so, the DAT prep course allows robust progress tracking. Their tagging questions will simplify the concepts for you, and you can learn even the most challenging concepts with ease. DAT Bootcamp even provides you with a mobile application. With this course, it is easier for you to study on the go than with Bootcamp.
We recommend this DAT prep course for you because this course is the most representative of the DAT exam that you will take in real life. In this best DAT prep course, you will be learning from a team of teachers who are available for your assistance round the clock. So, if you ever find yourself feeling stuck in any concept, you can reach out to the instructors, and they can assist you with all the help you need.
More so, in all honesty, we believe and agree with the fact that the students who study from the Bootcamp DAT study materials have an unfair advantage over others. How? You will learn from the most premier teachers on the internet.
More so, while you engage in DAT exam prep with DAT Bootcamp, their team of student heroes ensures that you are always on top of your preparation and never feel alone through the whole thing. These student heroes have been through the exact same stage as you and know what it takes to succeed. So, upon accepting this DAT prep course, you can count on them for every kind of help you possibly need. Throughout the way, it will feel like having a personal tutor at your fingertips 24/7.
In this best DAT prep course, you can be assured of maximum learning with minimum effort. When you take up the Bootcamp DAT exam prep, you will be studying from the high-yielded and the recently refined and updated DAT study materials. These DAT study materials have been based on their years of experience in helping students like you succeed.
So, get ready to join the largest DAT study group as when you join this DAT course, you will study with their group of over 17,000 students who are ready to share and learn together. With their mobile application, you can always study on the go. All the question banks, flashcards, bookmarks, and more are available at your fingertips 24/7 with their mobile application. You can download the application on your Android and iOS devices.
Bootcamp truly cares for your success. See, back in the day, when students used to prepare for the DAT exam, they often complained that the DAT study materials they get access to are not up to par. Understanding the situation, DAT professionals at DAT Bootcamp designed their own study materials where they bring together all the tools you need to succeed on the DAT, and that too at a reasonably affordable price. Further, their instructors and student team are available round the clock to take your questions. What more do you need?
DAT Bootcamp has over 30,000 success stories to boast about. So, join their DAT prep course and get set ready to start your success story with them. With them, you can save more than 100 hours of your life preparing for the DAT. With Bootcamp, you will always be studying the most updated, tried-and-tested materials.
 
Review Jasmine Ahrar:
"
DAT Bootcamp has so many practice exams and they're the closest thing you'll get to the actual DAT. Everything you need is there – I highly recommend it.
Sign Up Here
 
Related: DAT Bootcamp vs DAT Booster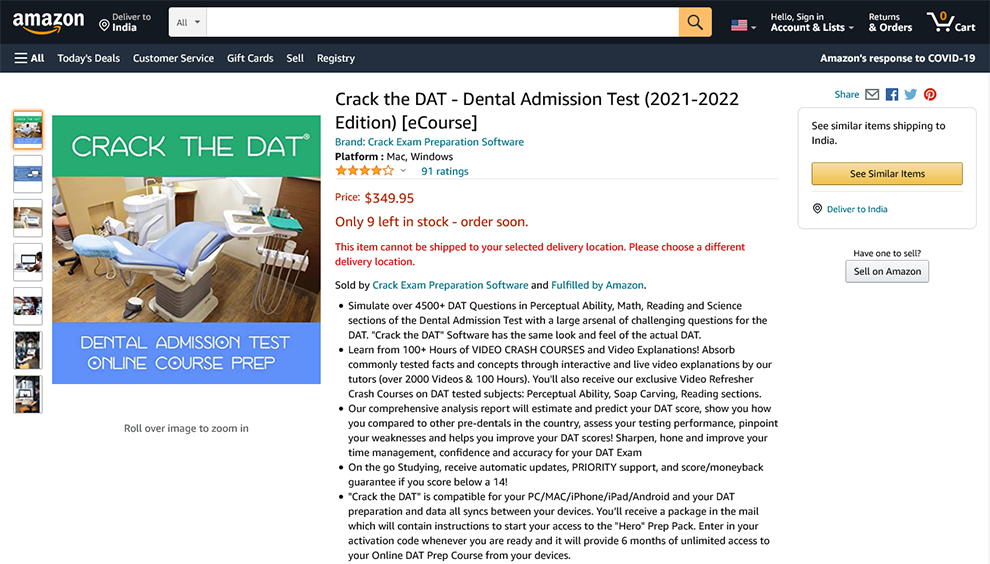 What is this course all about?
Last on our list is the Amazon DAT prep course. There are more than 4500+ DAT Questions in Perceptual Ability, Math, Reading, and Science sections of the Dental Admission Test in this DAT exam prep course. You will also find a comprehensive arsenal of challenging questions for the DAT. If reviews are to be believed, this "Crack the DAT" course has precisely the same look and feel like the actual DAT exam that you will take.
In this DAT prep course, you will learn from more than 100 hours of video crash courses and video explanations by expert professionals. The instructors have simplified things so well that you can easily absorb the commonly tested facts and concepts by virtue of their interactive and live video explanations. This DAT prep course has more than 2000 videos spread over 100 hours. Besides, you will also receive the exquisite video refresher crash course on the DAT test subjects: Perceptual Ability, Soap Carving, Reading sections.
The course also has a comprehensive analysis report. It can efficiently estimate and predict your DAT score and show how you rank compared to other pre-dentals in the country, pinpoint your weaknesses, assess your testing performance, and enable you to better your DAT scores. This preparation course will help you hone, sharpen, and better your confidence levels, time management, and the accuracy with which you take the DAT Exam.
Further, this course even facilitates on-the-go studying. You can avail of automatic updates and priority support with their support staff. Additionally, if this course does not help you score, meaning if the score is below 14, you can seek your full refund back. This is the kind of trust and faith they have in their course.
"Crack the DAT" is compatible for your PC/MAC/iPhone/iPad/Android. Regardless of the devices, you take the course, all your preparation material and the data will be synced automatically across the devices. Upon ordering for this course, you will receive the mail package, which will have all the instructions required to start your access to the "Hero" Prep Pack. Provide the activation code whenever you are ready, and you will get six months of unlimited access to your Online DAT Prep Course from your devices.
They also have a community Question & Answer. So, if you get stuck anywhere, you can post your questions, and the community of students who take this course will help you with the answers. They also have the 'Interviews' Guide, which has all the tips and tricks you need to crack the interview. Through their in-app support feature, you get priority support from their experts. So, enroll in the course, take the tests, and watch the videos as many times as you want till you are certain about your understanding of the subject matter.
Lastly, this is one of the most trusted resources for the Dental Admission Test. So, get yourself enrolled in the course and start seeking the benefits.
What's included?
Video Crash Course for PAT – Tips, Hints, and Strategies
DAT Organic Chemistry Refresher Crash Course (30+ Hours of HD Videos)
DAT General Chemistry Refresher Crash Course (40+ Hours of HD Videos)
Video Crash Course for Reading Comprehension (6 Hours)
Canadian Soap Carving Videos
DAT Math Quantitative Reasoning Refresher Crash Course (30+ Hours of HD Videos)
10 Full Length DAT Exams with newly released DAT Questions that feel like the actual DAT Test
10 DAT Perceptual Ability Exams; 900 Questions with Videos
25 DAT Quantitative Reasoning Exams; 1000 questions with Videos
10 DAT Reading Comprehension Exams; 500 questions with Videos
20 DAT Natural Science Exams; 2000 questions with Videos
Some Other Study Materials For DAT Preparation
If you do not want to enroll yourself in an online DAT prep course, we have got some other options for you:
Sign Up Here
 
Conclusion
So, these are the top five best DAT prep courses that you can find on the web. We tried our best to include as much information about the courses that we deem fit. However, despite that, we recommend you to read more about these courses before making your selection. For easy access, we have linked the websites along with the courses. So, go ahead, check the website, and find additional details, such as the course price, instructor bio, platform offering the course, and the ratings and reviews from the customer and make a pick.
 


Top DAT Exam Prep Online Courses is rated 4.6 and reviewed by 10 DAT Exam Experts & 35+ DAT Exam Prep Classes Students