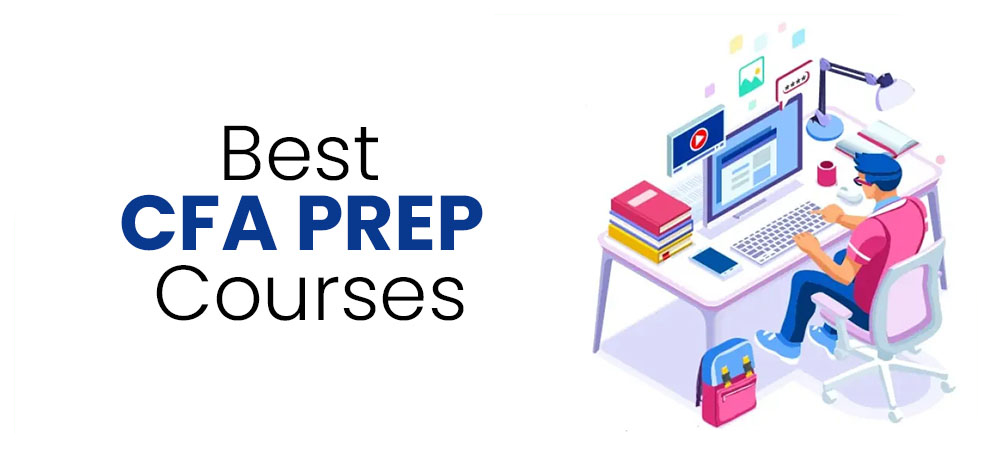 CFA or Chartered Financial Analyst is one of the most respected designations for finance students. Many even regard it as the gold standard in the investment field. The CFA Institute hands out this designation.
The CFA Institute is a global Not-for-Profit Organization with over 164000 charter holders, financial professionals, and portfolio managers in more than 151 countries. The course started to develop and promote a high level of the professional, ethical, and educational investment industry.
If you wish to be a Chartered yourself, you will have to work hard. The exams will be difficult. So, to ensure that you excel in the exam, you can enroll in an online CFA course.
Top Eight Best CFA Prep Courses
How Did We Select?
We searched the internet for the best CFA prep courses and came across several options. We analyzed and compared them on various parameters, and then forwarded our shortlisted alternatives to global CFA experts. They helped us put together this list of the top eight best CFA courses. Let us address them one by one.
Courses You Shouldn't Miss If You Want To Crack The CFA Exam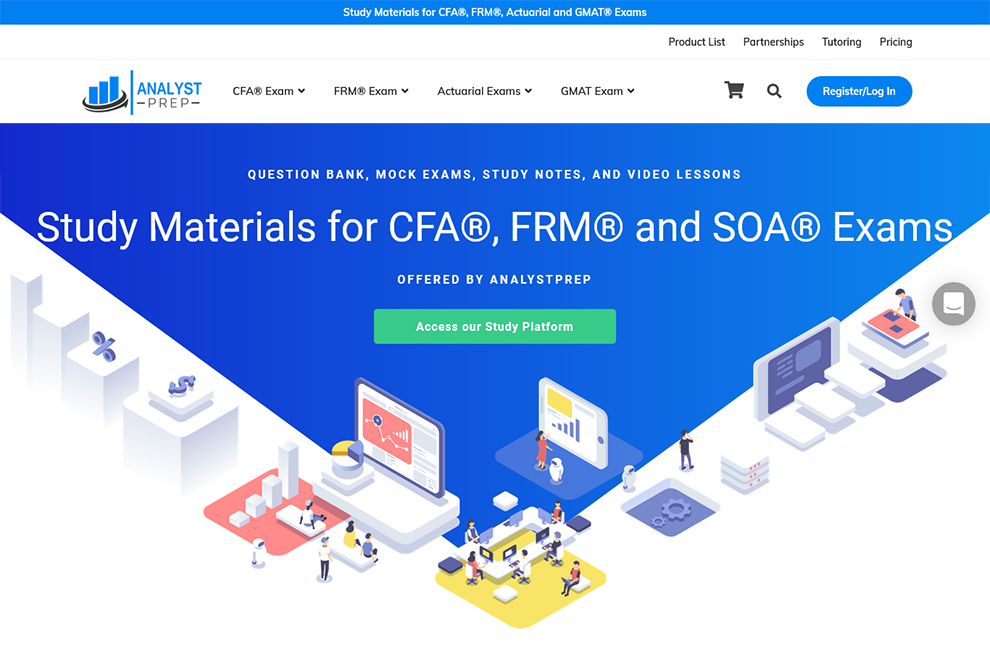 AnalystPrep is the number one platform for the CFA and the FRM program. They offer video lessons and study notes for a streamlined learning experience. The best feature is that the instructors add new examples to make the conveyance of even the trickiest concepts easier.
AnalystPrep also offers several exam-style question banks with top-quality questions, which replicate the questions you will find in your CFA, FRM, and SOA examinations. Here, you will find the questions in printable PDF forms to ensure learning on the go.
To solidify your understanding, AnalystPrep conducts mock exams, which will give you an insight into what an experience in the examination hall will be like. Moreover, there are personalized quizzes in mixed but progressive difficulty levels to gradually move to the challenging concepts.
What are your options?
AnalystPrep has multiple CFA prep classes:
Level I of the CFA Exam– In this course you will find question banks with mock exams to assess your understanding and grip over the concepts. You can sign up and get access to over 150 exam-style questions that cover every LOS. You can find personalized and printable mock exams and quizzes with a pro membership.
Level II of the CFA Examis typically the most challenging level. However, being one of the top CFA prep programs AnalystPrep tries to simplify the process for you with their comprehensive vignette-styled question bank that has 200 cases with six practice questions to check your understanding.
Level III of the CFA Exam– In this level, the focus is on the skills candidates should possess to work as a portfolio manager or analyst. You will find question banks to prepare you well.
 
Sign Up Here
 
Related: Best FRM Study Prep

As part of these best CFA prep classes, you will learn with a CFA expert, Kaplan Schweser. With their comprehensive study package, you can learn everything you need to know for your CFA exam. The expert tailors their best CFA exam prep to ensure that it is well-suited according to your needs.
As part of this prep course you will also be appearing for a mock test that will give you an idea of what it would be like in the exam setup.
You can find mock tests for all three levels. What's more? You can also find a vast question bank that can give you an insight into the kind of questions you must expect in the examination.
With a 97 percent recommendation rate, this is indeed the best CFA preparation online.
Next, we have another one of the best CFA prep courses. It is the best CFA level 1 prep course and has everything you need to ace your Level 1 CFA exam. We regard it as one of the top CFA prep programs because it comes with a guarantee.
Hence, if you do not pass the course, you will get your money back. What's more?
If you take up this best CFA exam prep course and pass it, you will win a $200 Amazon.com Gift Card. Furthermore, these CFA prep classes come with a Princeton Review's Pass Guarantee. It means that if you do not pass the exam in the first go, you get your money back.
The educationists of this CFA preparation online course assure you that if you do not clear this CFA exam, you will get 100% money back. To get your full refund, you must qualify for one of the below-listed conditions:
Provide your non-passing test result
Pass the instructor-prepared mock test in one go – If not, you will have to take the complete course
However, if you do not want a refund, you can repeat these CFA prep courses at zero cost. It is not it. The instructors have made this course as concise as possible. So, it is merely a 120-study-hour course. You can take it, start to finish, and pass the CFA exam.
Why is the number of hours in the class lesser than the industry average? The instructor has tried to include all relevant information in this CFA preparation online,  So all the redundant information seen in other courses is not a part of this course.
These CFA prep classes are aligned with the 2022 curriculum and have approximately 3200 practice questions with detailed solutions. It can give you ample practice.
Furthermore, four mock exams resemble the actual Level I CFA exam, over 50 hours of professionally recorded video lectures, 50 key definitions flashcards, and 900 slides of comprehensive study notes.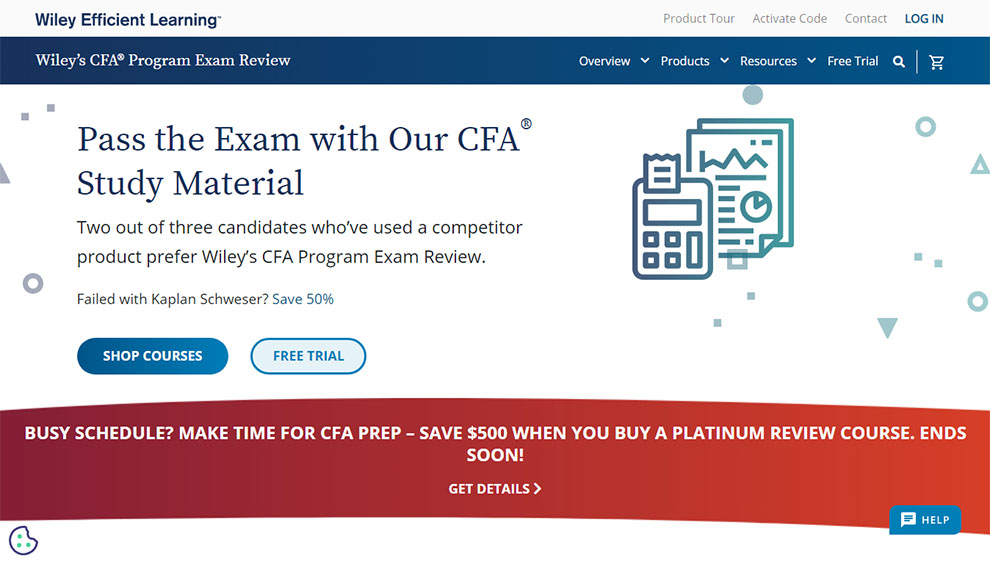 It is another one of the best CFA prep courses. It comes with a Wiley Promise. As part of the course, you can pass the exam for the first time with world-renowned expert instructors and predictive scoring.
Further, an excellent thing about this one of the top CFA prep programs is that it comes with access till you finally clear the exam.
In 2020, it was SIIA CODiE award-nominated as the best-in-class platform. The platform personalizes its learning style to help you retain and learn better in the shorter-time frames.
A fantastic thing about this best CFA exam prep is its Score predictor. It predicts the marks you will score in your exams based on several factors across your course performance. The higher number of questions and classes you finish, the more precise the prediction.
In this one of the best CFA prep courses, you will study with renowned and dedicated instructors like Peter Olinto. They bring their subjects alive and inspire you to learn and understand with every step.
There are several practice questions of varying difficulty levels. These give you ample practice. The questions come with detailed answer solutions to help you prepare better. All of this makes these the best CFA prep classes.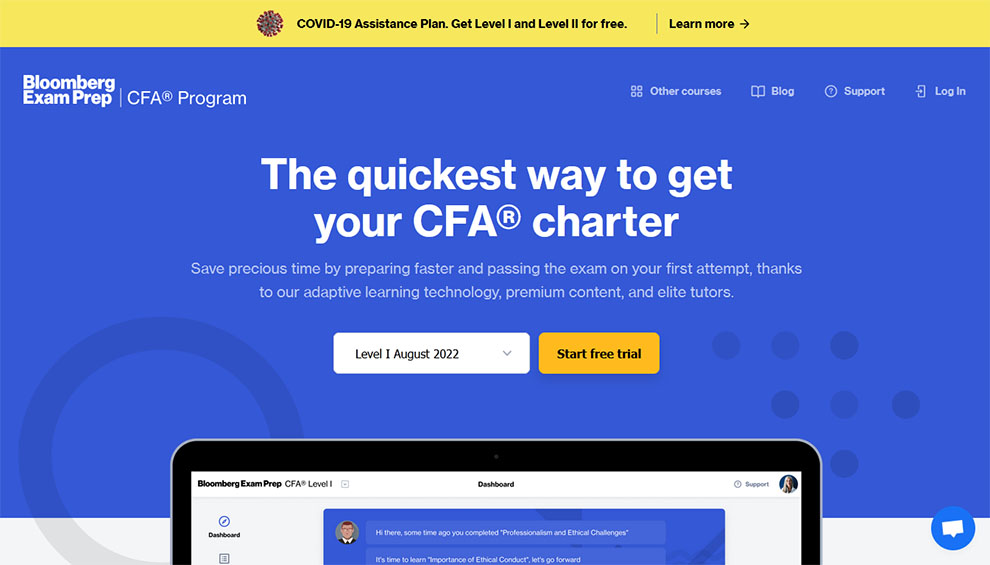 Next, we have another best CFA exam prep training. As stated by the course makers, it is the quickest way to kick-start your CFA® charter. Given Bloomberg's elite tutors, premium content, and adaptive learning technology, your chances of excellent with this one of the top CFA prep programs is pretty high.
Why do we recommend this CFA preparation online? The instructors try their best to make the learning more interactive and engaging. They have prepared micro-lessons that cover the entire CFA curriculum.
In addition, you get over 10000 practice questions and about ten simulation exams. Hence, naturally, the resources you get here are more than double those offered by the competition.
What's more? It is one of the top CFA prep courses. It has AI software that analyses the student's performance and focuses on all the target areas. The more hours you dedicate, the more personalized the session becomes.
Furthermore, this is the best CFA level 2 prep course along with level 1 and 3. As part of the course, you get access to one-on-one tutoring offered by the elite Bloomberg tutors. The tutors are all CFA charter holders.
Bloomberg offers one of the top CFA prep programs as over 98.2 percent of the graduates are either satisfied or extremely satisfied with Bloomberg Prep.
That is not all. The number of study hours in this course is less. You save over 100 hours with the course.
Where the industry average is 322 hours, to complete 80 percent of the course, you need just 179 hours. Lastly, you get industry-leading to pass insurance. As part of this, if you finish the course and fail the exam, you get 100 percent of your money back, no questions asked.
This best CFA exam prep comes with a free trial. So, before you start the course, you can experience the learning mechanism followed by the educators. It will also help you understand how this adaptive online portal efficiently guides you through the CFA Program curriculum.
Fitch has a team of expert, global faculty. They are industry-best and constantly work hard to support the learners via virtual classes. As part of this CFA program, you will have access to the adaptive online study portal, which has everything you need to pass the exam.
Further, this is one of the most excellent CFA prep courses. It has flexible study options. So, you can pick the one that best suits you. The main course options include weekdays, weekends, evenings, online, and review learning. Based on your availability, you can make your selection.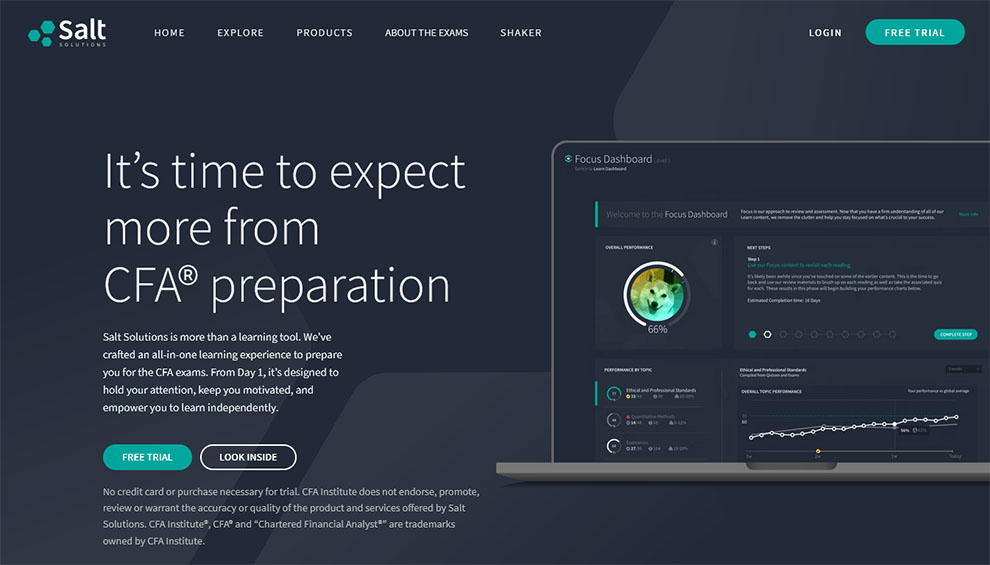 The following CFA preparation online is presented to you by Salt Solutions. They have prepared these best CFA prep classes to help you prepare better for the CFA exam.
It is one of the top CFA prep programs and can empower you to learn independently, keep you motivated, and hold your attention. This course is more than just study materials. You get access to first-hand knowledge of the top-notch Chartered Financial Analyst exams.
The aim of this one of the top CFA prep courses is understanding. So, you do not have to memorize anything. All the video lessons and manuals explore the core concepts of the curriculum to make it easier for you to apply them.
So, how does this course stand out from the competitor? Across the class, the instructor follows a step-by-step approach to reaching for the answers. So, when you find similar questions in the exam, you know the method behind them. For the tough questions, the creators have prepared detailed video solutions.
To help you overcome your weak areas, the instructor offers additional resources. You get custom quizzes, personalized reviews, and practice exams similar to the actual exam. All of it is written and curated by the Salt Solution team.
An excellent thing about this one of the best CFA prep courses is that before you start your preparation journey, the instructor will do everything to simplify it. Hence, they will understand your requirements and show you precisely what you need to see.
The CheckPoints of these CFA prep classes provide you with bite-sized weekly goals that focus on your studies and ensure that you stay on track. So, you can complete the tasks, earn points, and progress in the journey.
The well-qualified team has independently prepared every solution, question, analysis, and reading in this CFA preparation online.
Now, we have arrived at the last listing on this guide. It is not one specific best CFA exam prep but a cluster of some of the top CFA prep courses by Udemy. Udemy has some of the top-selling and highest rates courses. On the platform, you can find the best CFA level 3 prep course along with level 1 & level 2.
In addition, they have the best CFA prep classes that suit every expertise and skill level. So, regardless of whether you are a beginner, an intermediate-level student, or an advanced-level student, there will be a suitable course for you.
A few of the top courses that caught our eye are:
Related: Best Corporate Finance Courses, Personal Finance Classes
Frequently Asked Questions
Ques 1. Can I self-study CFA?
Ans. There is honestly nothing you cannot do on your own. But, we recommend you take up a course online or offline. It will give you ample preparation for the exam you will appear for.
Ques 2. How long does it take to prepare for CFA Level 1?
Ans. Most successful candidates reportedly spend around 300 hours studying for every CFA level. Usually, it is 303 hours for Level I, 328 hours for level II, and 344 hours for level III.
Ques 3. How do I clear my CFA on the first attempt?
Ans. Follow the steps below along with  CFA prep courses to clear your CFA exam on the first attempt.
Start early
Be consistent
Make a monthly schedule
Have weekly goals
Try to understand concepts instead of memorizing them
Make notes
Practice as much as possible
Revise concepts
Try to solve at least ten mock papers in an exam-like setup
Revise all the learned concepts in the last week again
Do not spend too much time on one question
Attempt every question as there is no negative marking
This is all. If you study well and revise everything before the exam, your chances of success are high.
Ques 4. Why is the CFA so hard?
Ans. A primary reason for the CFA exam difficulty level is the time commitment. Unfortunately, several students do not pass all three levels.
It is because of the massive time required to study for them. Some people do not have the necessary time to prepare for the exam, while others do not put in the desired effort. Of course, the exam is also challenging, but it is not THAT hard that you cannot clear it.
 
Conclusion
So, these are the top seven best CFA prep courses you can opt for this year. These courses provide you the best CFA exam prep training and practice experience.
[xyz-ihs snippet="schema-best-cfa-prep-courses"]