Reading Time:
10
minutes
Coursera has some outstanding audit classes. But that doesn't make the others any less. Check out my top five suggestions.
Auditing is a crucial procedure that involves examining financial systems, records, and processes to ensure integrity, accuracy, and compliance with relevant standards and regulations.
Being a commerce graduate, audit courses online or in-person were a must for me. I have studied auditing extensively and understand its significance in maintaining trust and transparency in business operations.
Auditing is crucial in assessing the financial information's reliability and identifying potential fraud or risks. It is a vital subject for anyone pursuing a career in business management, finance, or auditing to be well-versed in auditing techniques and principles.
Beyond studying the course books, I always like to expand my knowledge of the subject and know in detail about every subject.
So, today I wish to share some of the top online audit classes that have worked for me and a thousand other students. I am sure it will prove beneficial for anyone hoping to make a career in the domain.
Kinds of Auditing
There are many different types of auditing. These are as follows:
Financial audit
Internal audit
External audit
Compliance audit
Operational audit
Informational systems audit
We will focus on internal and financial audit courses here. Financial auditing refers to examining financial records and statements to ensure compliance and accuracy with accounting standards. On the contrary, Internal auditing evaluates risk management, internal controls, and operational efficiency within the organization.
Why Is Coursera Audit Course My Preferred Choice?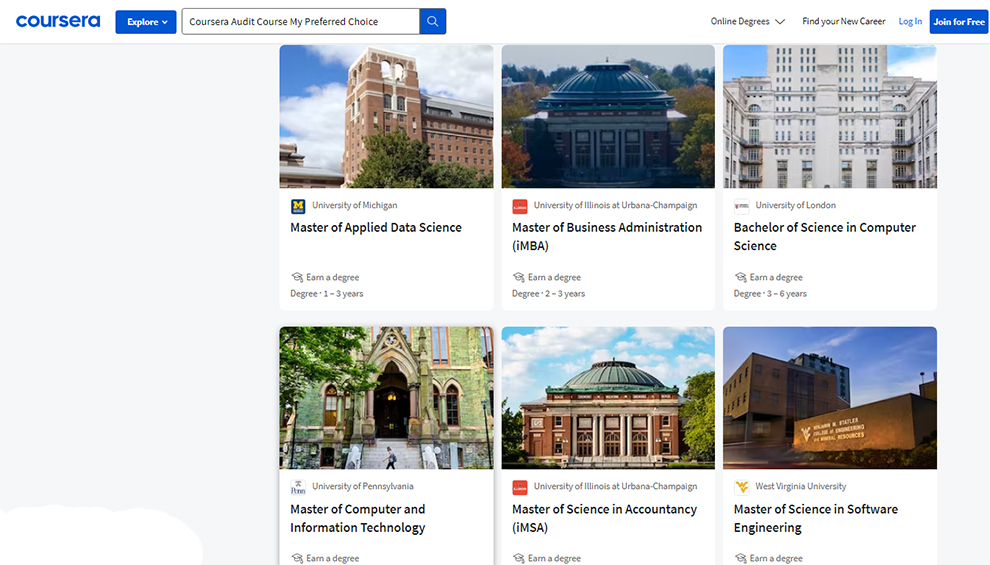 While I will discuss many courses below, one that stands out for me at number 1 is Coursera's Auditing I: Conceptual Foundations of Auditing.
Some reasons I prefer this class over others are:
It has a 4.7 out of 5 rating, indicating its positive reception amongst learners.
You study with a reputed instructor from the University of Illinois, Mark E. Peecher, Ph.D., CPA. He brings extensive expertise in the field.
It is also one of my top favorite courses, as its structure helps boost learning via 26 quizzes and eight assessments. It enables the learners to assess their understanding and receive valuable feedback from the instructor.
Further, once you complete the class, you will earn a shareable certificate from the University of Illinois. It can validate your knowledge and open doors for employment opportunities.
Hence, with its easy-to-understand content and responsive instructor, this online audit training is an excellent choice for individuals seeking to expand their auditing skills and knowledge.

Rating: 4.7
Instructor: Mark E. Peecher
Pros
Cons

You can together work towards your Master's degree with this class.
The course provided a clear understanding of auditing basics, making it suitable for beginners.
The instructor is very knowledgeable and breaks down complex concepts beautifully.
The course's practical focus addressed important real-world issues in modern auditing.
Its flexibility lets the learners study at their own pace.
You bag a shareable certificate after finishing the class.

 

I did not find Assignment 8 in Module 8 not connected to the overall content.
While the instructor responds to queries, the feedback on assignments generally takes an extended period, often up to three weeks. It negatively impacts motivation to continue.
The instructor spent way too much time convincing us about the value of auditing and discussing subjective qualifications instead of imparting substantive knowledge.
Some modules (nine in total) provide limited substance and lack comprehensiveness.

 
Bottom Line
As stated, it is one of my top-favorite audit courses online that offers an intensive conceptual and applied introduction to auditing in society.
It focuses on applications and concepts related to financial statement auditors' professional responsibilities and all the major aspects of the audit processes, including audit reporting and risk assessment.
You even earn a shareable certificate with it. It is a 100% online course. You learn at your schedule.
Review MI:
"
Excellent course! I learned a lot in relation to practical issues that are extremely important in modern day auditing. I recommend the course strongly for both academics and practitioners. Thank you.
Related: Online Banking Courses | FinTech Classes Online | Best Tax Preparation Training | Accounting Courses Online | Personal Finance Courses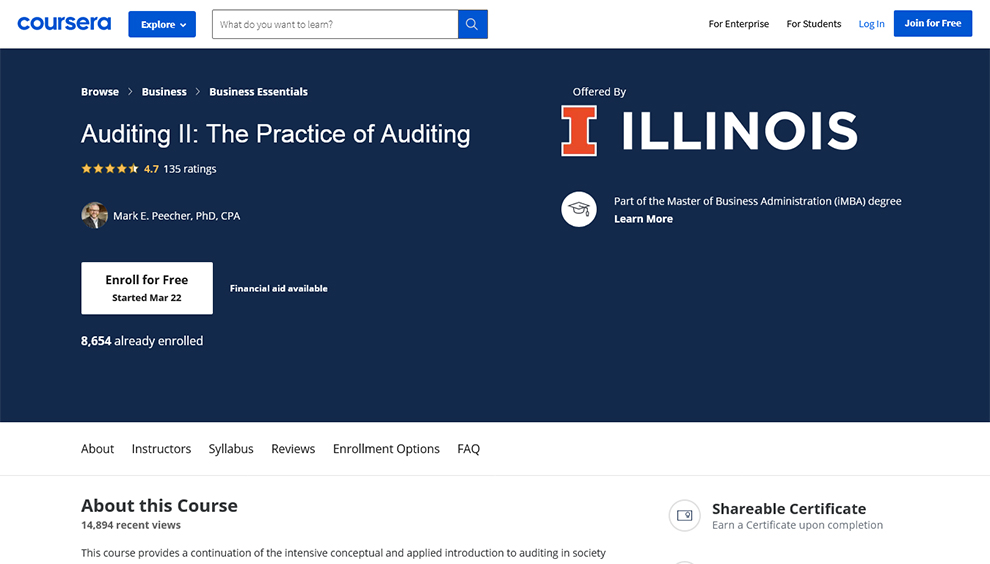 Rating – 4.8
Instructor: Mark E. Peecher
Pros
Cons

Mark E. Peecher's teaching style is commendable. He demystifies complex content and does a fantastic job at keeping the learners engaged across the nine modules.
You will find valuable knowledge applicable to real-life scenarios, bridging the gap between practice and theory.
The quality of the material is top-notch.
It is flexible. So you can learn at your own pace.
You will earn a certificate from the University of Illinois.

 

Many learners in my group experienced issues with the ID verification process and reported that they did not bag a certificate. Honestly, I did not face any such concern, but as it was a concern of two members of my group, I must point out in my online audit classes'
Including more practical examples, such as mock audits, can enrich the learning experience.
I experienced issues with the accuracy of the quiz answers and the detail level in the slides for revision purposes.
Lastly, I am not a fan of the peer review process for assignments. It is daunting to depend on others to check the assignments.

 
Bottom Line
This course is a continuation of the applied introduction and intensive concept to auditing in society begun in Auditing I: Conceptual Foundations of Auditing. This course focuses on a conceptual framework that audit professionals employ to assess, evaluate, and manage audit risks and evidence.
One of the prime reasons this course ranks high on our audit courses online list is that this course is a part of the 100% online Master of Business Administration (iMBA) from the University of Illinois at Urbana-Champaign.
So, the students admitted to the complete program will benefit more from this course. How? These count towards your degree learning. So, enroll right away!
Review SB:
"
Thank you Dr. Mark for this amazing, well tailored course of Audit practices. I really enjoyed it and got a lot of information in the audit procedures.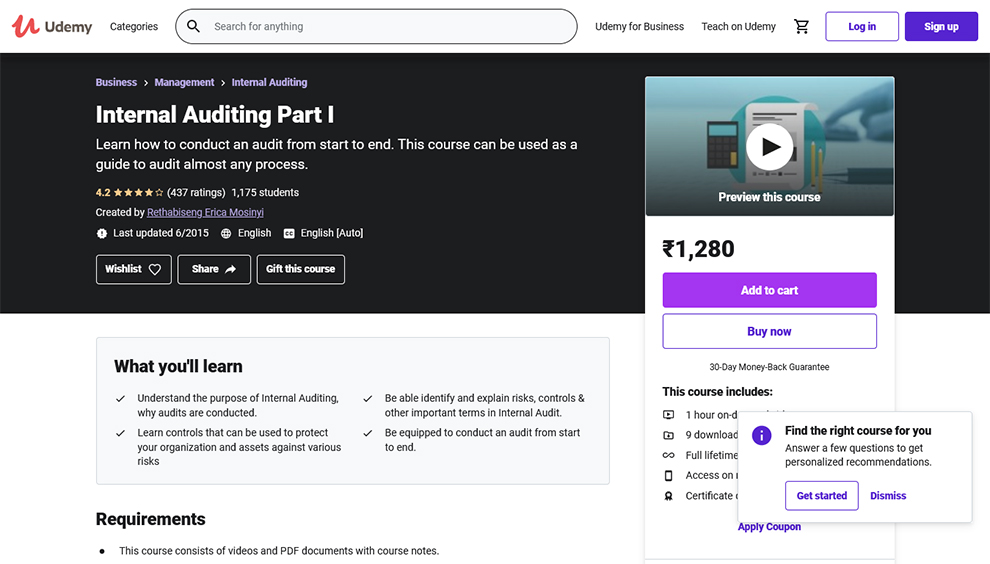 Rating – 4.2
Instructor – Rethabiseng Erica Mosinyi
Pros
Cons

It is informative and offers an excellent overview of internal auditing concepts and processes.
These online audit classes are easy to follow and comprehend, making them suitable for beginners in internal auditing.
The instructor offers clear explanations and definitions of key terms and concepts.
It can be a good starting point for anyone new to internal auditing, offering them a fundamental understanding of the subject matter.
Quizzes and notes included in this class are valuable as they reinforce the knowledge acquired.

 

I wish there were more practical examples. It would have boosted my understanding of real-world work.
Across this online audit training, I noticed many grammatical and spelling errors in the course material that detract from the overall quality.
Subtitles across the class are inconsistent and do not match the spoken content accurately, making it complicated to follow along.
Some quizzes were placed before the relevant section, causing confusion and demanding backtracking.

 
Bottom Line
It teaches you internal auditing and gives you the proficiency of auditing processes in just a week. The primary objective is to take you from the beginner level in Internal Auditing to your master's in only seven days.
You will be learning with Rethabiseng Erica Mosinyi. He has long-standing experience as an Internal Auditor in different industries. Upon taking this class, you will be capable of auditing any process in any industry.
It can be a good pick for people already in the field of auditing. They can use these sessions as a reference guide. Further, if you are already preparing for your CIA (Certified Internal Auditor) exams, this is indeed one of the best options.
Review SB:
"
Very good match actually. My teacher who is teaching about auditing recommended us to do a course and write a report on it, and this was pretty good to cover.
Rating – 4.7
Instructor – Garvin Percy DIAS
Pros
Cons

The course is well-organized. It covers significant IS Auditing, Controls, and Assurance concepts.
You will find the topics presented in an easy-to-flow and logical manner.
Professor instructors explain in an easy-to-understand and straightforward manner.
You will find many practical examples to illustrate the concepts, making it easier for non-technical background learners to grasp the material.
The guest interviews with industry practitioners, such as Ms. Gloria, offer valuable perspectives and help connect theory to practice.

 

In some instances, the class does not offer an in-depth understanding and covers the topics superficially.
While there are some practical examples, the course is primarily theory-driven.
There are multiple grammatical errors in the course content and quizzes. These make it challenging to focus and understand the material.

 
Bottom line
It is included in my audit courses online list because, through this course, you will explore the risks of the information systems, learn the correct way to mitigate the risks by adhering to the Information system controls, and the proper techniques to perform an audit of the organizations.
Further, the course will also familiarize you with the IS Audit procedures and how they apply during the IS development throughout the Systems Development Life Cycle (SDLC).
Lastly, you will learn to observe how you can make the system changes more manageable using formal IS Management practices, such as Change Management Controls and Emergency Changes.
More so, the course has several conversations between Prof. Percy Dias, your course instructor, and the Information System Auditing Practitioner.
These conversations can be highly beneficial for you to get an idea of how Information System auditors perform their duties, the qualities to become IS auditors, and the IS auditing industry's prospects.
Review RY:
"
Superb course, the instructor lecture and material is precise and concise. A worthwhile for any current and future IS auditor. Pity that I can only give 5 stars as the course deserve 10 stars rating!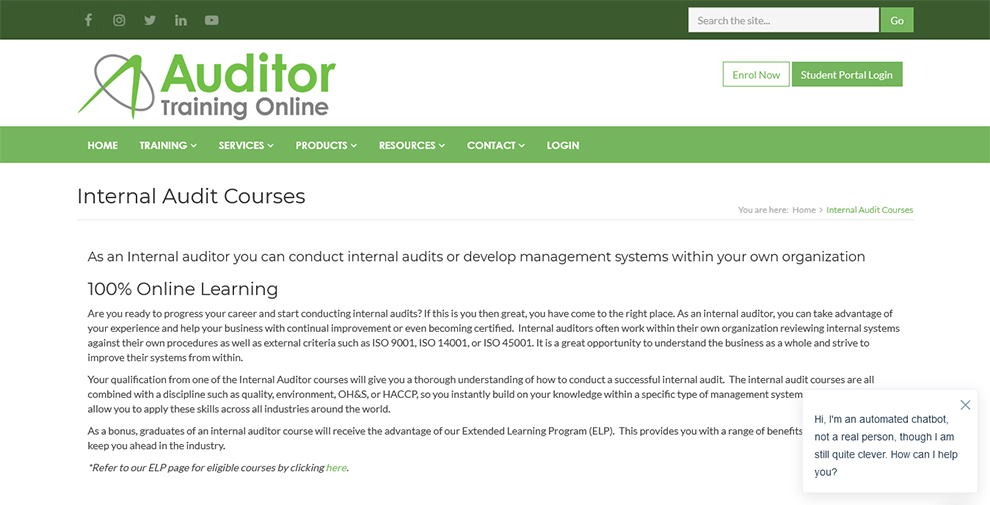 Pros
Cons

These audit courses online offer a thorough understanding of conducting successful internal audits.
You will learn diverse concepts that will prove beneficial across industries globally.
The instructors continually update this class.
The classes meet the ISO standards
It is a self-paced class.
There are no prerequisites to the courses.
You can take the non-graded knowledge checks to assess your understanding and identify the areas that need improvement.
Educators offer instant feedback on the assignments.
You have three attempts for module assessment.

 

These courses are expensive with no promotional offers.

 
Bottom line
As an internal auditor, you can get the advantage of the experience and help your business with continual improvement or even becoming certified. Internal auditors often work within the organization reviewing internal systems against external criteria such as ISO 9001, ISO 14001, or ISO 45001 or within their procedures.
Thus, this course is a good opportunity for you to comprehend the business as a whole. You will learn to continually strive to better the system from within, be it inside or outside the organization.
Some Free Online Audit Classes
Not every student is looking for a paid class. So, Alison is an excellent alternative if you need a free course. While free, they offer a certification.
Here are some free options from Alison:
Want A Degree Program Instead?
You can also opt for a degree in online audit training. Here are my top recommendations for audit degree programs:
Accounting, Taxation & Internal Audit [UCLA Extension]
Auditing Specialist Certificate [LSU Online & Continuing Education]
Internal Auditing Focusing In Operational Systems [Kelley School of Business]
Let Me Help You Choose The Right Course
When choosing from different courses, always prioritize your interests and goals. Further, jot down your desired outcomes and see if the class matches them.
You can read through the reviews, course descriptions, and ratings to gather insights into the course quality and instructor's background. In addition, the duration, prerequisites, and course format also play a role in the selection process.
Do not ignore the inclusion of assessments, learning resources, and support available. Finally, consider your preferred learning style and ensure the course delivery method suits you. Considering these factors, you can decide better and select the best course to meet your learning objectives.
Why Trust My Recommendations?
I took these courses, evaluated them on multiple parameters, and then presented this unbiased list of online audit classes. So, I you can trust my selection.
FAQs and Doubts About Audit Courses
A. What qualifications do you need to be an auditor?
Specific qualifications to become an auditor may vary depending on the industry and country. A relevant bachelor's degree in accounting, finance, or a related field is beneficial. Further, professional certifications, such as Certified Internal Auditor (CIA) or Certified Public Accountant (CPA), can enhance job prospects.
B. Can you do auditing without a degree?
While having a degree is commonly preferred, you can pursue a career in auditing sans a degree. Some organizations may demand equivalent work experience or professional audit courses online with certifications as an alternative qualification for auditing roles. But specific requirements may vary with jurisdiction and employer.
C. What is the difference between an accountant and an auditor?
Accountants handle the recording, organizing, and analyzing of financial information. They cater to bookkeeping, preparing financial statements, and tax planning.
On the contrary, auditors with examine financial records, systems, and processes to ensure accuracy and compliance, and identify potential risks or areas for improvement. Typically auditors work independently or in an auditing firm for objective assessment of the organization's financial practices.