Reading Time:
9
minutes
3D Modeling has become an essential skill for designers to excel in their field. To get the best learning experience, check out the below-listed classes by Udemy, edX, CG Spectrum, and a few other free courses.
3D modeling has gained immense popularity in the past decade because of its versatile applications across industries, such as product design, architecture, gaming, and film.
With the availability and accessibility of 3D modeling courses online, you get a convenient way to master and learn the techniques while staying current with the latest knowledge.
Their structured and comprehensive learning, hands-on projects, and industry-relevant skills offer a solid foundation and accentuate employability.
As an architect, I acknowledge the value of such online 3D modeling classes. So, I will present the seven best alternatives that helped me in many ways and maybe likewise for you.
Can 3D Modeling Be Self-Taught?
Yes, 3D modeling can be self-taught. The best way to learn 3D modeling is to combine resources. These include tutorials, 3D modeling books, courses, etc.
They offer step-by-step support and guidance for learning 3D modeling independently. Experimentation, practice, and dedication are the keys to getting proficient at it.
Which Is My Favorite Course and Why?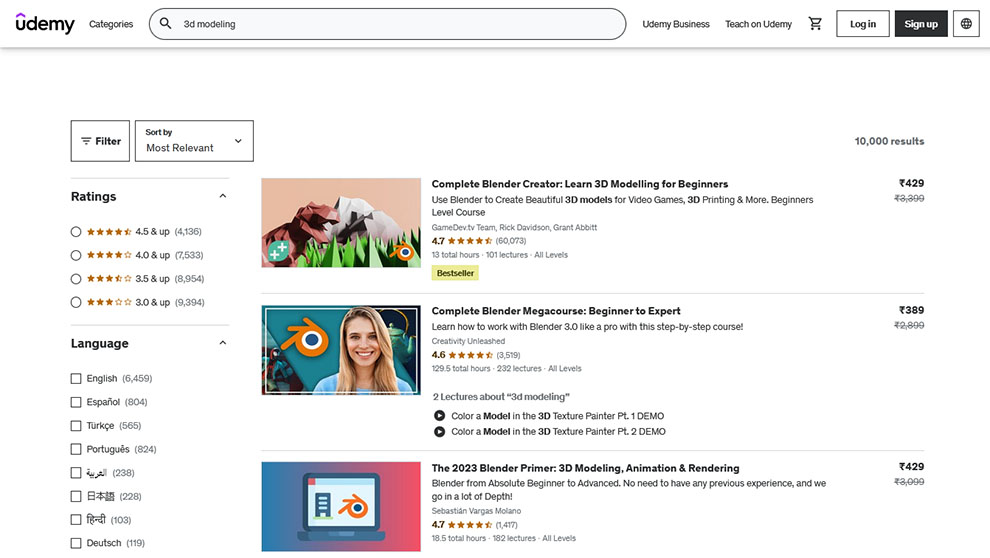 While I was looking for 3D modeling classes near me, I stumbled upon many options, but in my opinion, the Complete Blender Creator: Learn 3D Modeling for Beginners (Udemy) is the best alternative.
Beyond its high rating and bestseller status on Udemy, it provides continual updates to keep pace with market changes. Further, it is a project-based program and teaches everything you need to know to make a mark in the professional world.
In addition, its comprehensive content, experienced instructions, and the option to connect with a free community site make it stand out among other online courses.
Let's check out the highlights of this course and others on the list.
Rating – 4.8
Instructor – GameDev.tv Team, Rick Davidson, and Grant Abbitt
Pros
Cons

It is one of the best 3D modeling courses online, which has been recently updated for 2.8, and you will keep receiving continuous updates to keep up with the ongoing market changes.
It helps you create AAA-quality models.
The tutor of this course, Ben, is one of Udemy's top instructors. I loved how he started with the basics. So, beginners will also find it beneficial.
All the complex topics are broken down into simpler and smaller sections to simplify the whole thing for you.
It is a project-based course. So, it implies that you will apply the new skills immediately to real 3D models.

This 3D modeling training could've been better without the repetitive ideas.
Bottom Line
It is the right course if you are only a beginner, as it will teach you all the modeling fundamentals you'll need.
On the other hand, if you are an artist, it is an excellent course as it will help you teach how to bring assets to life. Lastly, the class will help you comprehend modeling and design principles if you are a coder.
Review Nandor Batta:
"
Demanding videos from amazing teachers! I learned a lot from this course and I'll pick up some other courses from this team with trust.

Instructor – – SouthernShotty3D
Pros
Cons

Honestly, I didn't have much hope for this one. But as they say, surprise is the key element of life. Here, you will work on a project to create a rotating video of your character with Blender 3D, which can be incredibly beneficial in the long run.
Your tutor will guide you through designing, modeling, texturing, lighting, and rendering a character for 3D. These online 3D modeling classes also cover skills traditionally used in animation, motion design, video game design, and some VFX.
You do not need any prior knowledge for this course.

The instructor's speed is a little too fast.
Some videos have technical glitches and do not play.
In some instances, the instructor uses incorrect terminology.
Bottom Line
Overall, irrespective of certain downsides, it is an excellent class to help you design, model, and texture your 3D character.
Review Sophie McKenzie:
"
Explained every step perfectly! As somebody with zero knowledge of blenders, I still managed to successfully make a model!
Rating – 4.9
Instructor – Billy McDaniel
Pros
Cons

Another course to learn 3D modeling online is this one that will help the students gradually learn about the essential tools used for everyday modeling.
You will have hands-on experience across the class.
The course will help you make your first game and publish it through adequate experience and practice.
After completing the course, you will bag yourself a certificate of completion.

Some approaches are ineffective and repetitive. Hence, the instructor must take measures to simplify and modify them.
The inclusion of more complex models would be better.
Bottom Line
It is a bestseller, actually one of the highest-rated courses, with a rating of 4.9, which justifies how well-received this class is. However, some simplifications and additions of complex models would add value to this course.
Review Emmi Kärnä:
"
Billy was such a good instructor, that I immediately bought his next course. Clear teaching style and voice, enough repetition with the key bindings so a noob like me can keep up, and quick answers to your questions. A thousand thanks!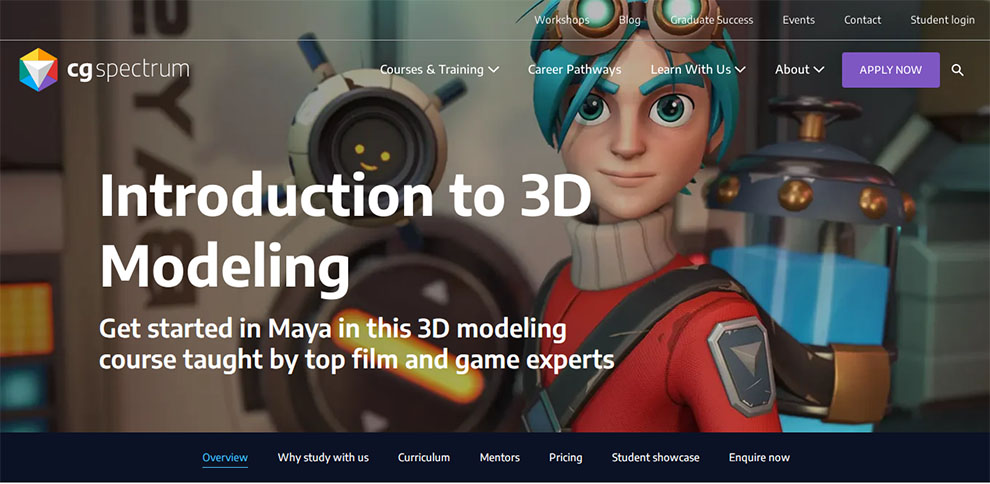 Instructors: Bryan Bentley, Anton Tenitsky, and David Cunningham
Pros
Cons

You will study with industry pros who have worked at studios like Disney, ILM, and Weta. So, when you learn 3D modeling online via this class, you will become an expert at creating life-like props, characters, plus background environments for chart-topping movies and games.
It's a fun, creative career path.
You will learn to create your 3D assets, including characters, props, and environments!
You get full hands-on experience using Maya (industry-standard software used by top studios).
The class will take you through the theoretical aspect of the course but also help you dive into the practical aspects of it.
You always have the flexibility to study anytime, anywhere.

It is expensive.
20 hours weekly commitment can be too much for working professionals.
Bottom Line
These classes by CG Spectrum comprise two terms. In Term 1, you will get an Intro to 3D Modeling Foundations. As part of Term 2 of the program, you will learn more about character & environment modeling. Hence, the versatility of the course is worthwhile.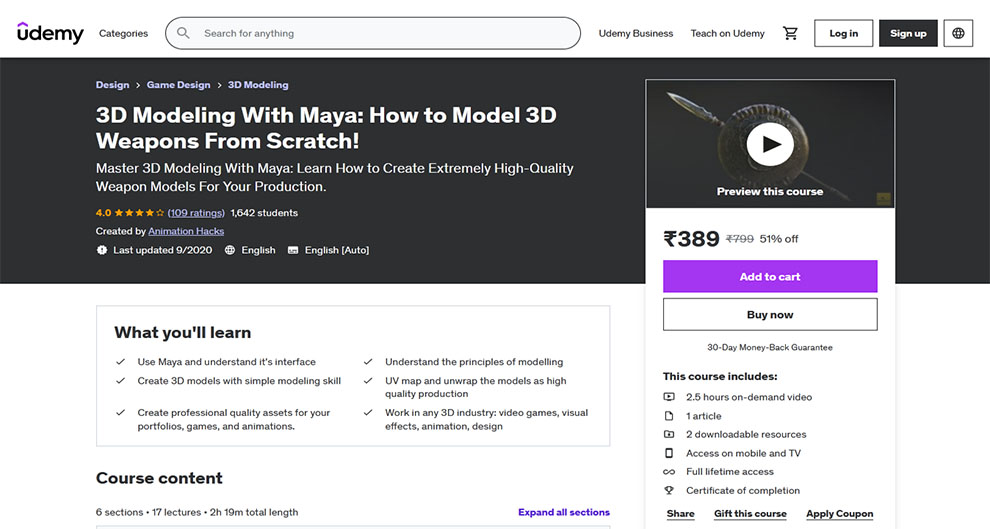 By – Animation Hacks
Pros
Cons

This course is presented to you by Animation Hacks, a visual effects studio with a proficient team.
It is highly rated with a rating of 4.5.
It has a lot to learn for those interested in creating hard surface weapons for game development
Lifetime access to the course materials
It's one of those 3D modeling courses online that enables learning on the go with access to both TV and mobile devices.

The short course duration of 2.5 hours, may not suffice for many
Requires Autodesk Maya and Headus UVLayout software
Bottom Line
It is a good selection for Maya users regardless of their levels. The class presents knowledge and skills in creating professional-quality assets in various 3D industries, including games, visual effects, and animation. But its shorter duration is my main pain point.
Review Carlos Gray:
"
I love this tutorial. I had no experience in 3D, but with this tutorial, it was sooo easy to understand how a 3D World can be made. And you learn how to make different things.
Instructors – Sameer Sahasrabudhe, Sneha Sanglikar, Nitin Ayer
Pros
Cons

Presented to you by IIT Bombay, widely known for its proficiency in education and tech
Takes you through crucial 3D modeling skills using Blender, a free and open-source tool
You receive four weeks of content with a manageable commitment of 4-6 hours per week.
Details on modeling, texturing, and lighting basics
It has many video tutorials, quizzes, activities, and hands-on assignments for practice and reinforcement

Curtailed to the basics, so advanced users won't find it beneficial
Covers only the non-organic object modeling, bereft character modeling
Limited to the basics and may not cover advanced or specialized topics
Bottom Line
These online 3D modeling classes are ideal for beginners who wish to adept their 3D modeling skills with Blender.
You will experience an organized curriculum with depth and many practical assignments for hands-on learning. However, for learners seeking specialized knowledge, I recommend supplementing learning with additional resources or courses.
Instructor – Ozgur Gorgun
Pros
Cons

Takes you through animation and 3D design using Cinema 4D
Taught by an experienced instructor, Ozgur, who is a Maxon Certified Cinema 4D Instructor
Covers the entire 3D workflow, including modeling, lighting, texturing, animating, and rendering
Provides industry-standard techniques, tips, and tricks
Needs no prior foundation

Does not cover other 3D software applications beyond Cinema 4D
Coverage restricted to motion design and animation
Bottom Line
This class is suitable for beginners in 3D modeling and animation with Cinema 4D. Taught by an experienced person, the instruction quality is top-notch. While the areas covered are detailed, you will find many topics missing. However, the class will benefit you in enhancing your graphic skills and 2D motion design.
Some Free Online 3D Modeling Classes
During my research for the 3D modeling courses, I found some free ones with decent fundamental instruction.
Two such courses are:
Review Travis Risner:
"
This course was a great introduction to Cinema 4D. I had no previous experience using C4D or any other 3D programs before this course. This course helped me to get an understanding of how Cinema 4D works. I am very happy and satisfied with the course. I think the title Masterclass is a bit misleading, as it does not go into the details of every single option in the program. However, it goes over a few bits of each different thing you can use, and it's kind of up to the user to experiment and play around with others.
Why Trust My Course Recommendations?
You can trust my recommendations because I took all the above-discussed 3D modeling training programs at some point in time.
I assessed the instructor's expertise, and by immersing myself in the course content, I acquired first-hand information of their quality.
Rest assured, all the above-stated course recommendations are based on a comprehensive evaluation process, aiming to offer reliable guidance in picking the right course.
Let Me Help You Choose The Right Course
If you are confused about which class is suitable for you, here are some tips that can help:
Determine your specific objectives and interests within the 3D modeling field.
Read the syllabi and course description to ensure they cover the topics and techniques you wish to learn.
Pick the best 3D modeling course in the format (video tutorials, interactive exercises) that aligns with your preferred learning style.
Look for experienced instructors with a solid background.
Read reviews to see what others think of this class.
Check if the class offers ample support, bonus resources, and community forums to boost your learning experience.
Evaluate the course duration, pricing, and whether it fits your budget and schedule.
Common Doubts About 3D Modeling
How Long Does It Take To Learn 3D Modeling?
The time to learn 3D modeling depends on your prior experience, project complexity, and dedication. You can expect to get fundamental clarity in a few weeks. Then over the next few months, you can take projects and build on the knowledge.
What Is The Application of 3D Modeling?
3D modeling applications are widespread across different industries. It is employed in animation and film to create realistic environments and characters.
It is also used in gaming for designing levels and assets, engineering and architecture for visualizing structures, product design for prototyping, and in medical fields for creating anatomical models.
Furthermore, 3D modeling also finds use in augmented reality, virtual reality, and 3D printing, further expanding its usefulness and versatility. Given its massive use and popularity, it makes sense for design individuals to enroll in 3D modeling courses online to get adept at this domain.
Is 3D Modeling In Demand?
Yes, 3D modeling is in high demand in industries like film, gaming, architecture, and product design.
Is 3D Modeling Oversaturated?
Though competitive, it is not oversaturated. Talented and skilled 3D modelers with a solid portfolio and industry-relevant skills will find good opportunities in the market.
Can You Get A 3D Modeling Degree Online?
Yes. A quick search for 3D modeling classes near me will give you a list of colleges and universities for the same.
You can acquire a 3D modeling degree online via accredited institutions that offer distance learning programs in digital art, computer graphics, or related fields. These programs include courses in visual effects, animation training, and 3D modeling.

Best 3D Modeling Courses & Classes To Learn Online are rated 4.4 and reviewed by 10 3D Modeling Experts & 30+ 3D Modeling Courses Students